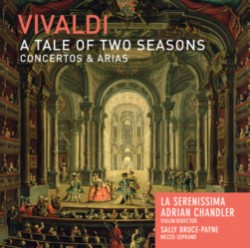 Title:
Vivaldi: A Tale of Two Seasons
Artists:
Sally Bruce-Payne, mezzo-soprano
La Serenissima
Adrian Chandler, violin / director
Summary:
Vivaldi specialists Adrian Chandler's and La Serenissima's hallmark qualities of erudition combined with crowd-pleasing performances have made them one of the best-selling and acclaimed period-instrument bands performing today. Recently their Gramophone Award-winning album Vivaldi: The French Connection (AV 2178) topped a Forbes list of How to Build a Top Quality Classical Music Library. Their last release, Venice by Night (AV 2257) made the Top Ten of the UK Specialist Classical Chart. Their 11th release for Avie, Vivaldi: A Tale of Two Seasons once again presents the Red Priest in an engaging and fascinating light. Focusing on two Venetian operatic seasons of 1717 and 1733, the enlightening program juxtaposes the work of an eager young man with that of an older, more cunning composer who had adapted his music to that of the fashionable Neapolitan style.
Tracklist:
Antonio VIVALDI (1678 – 1741)
I: 1717
Sinfonia to L'Incoronazione di Dario for strings & continuo, RV 700 (5.35)
[1] Allegro (2.31)
[2] Andante pianissimo (2.23)
[3] Presto (0.41)
Arias from Arsilda and L'Incoronazione di Dario for mezzo-soprano, strings & continuo (12.49)
[4] Io sento in questo seno from Arsilda (RV 700) (2.20)
[5] Ferri, ceppi, sangue, morte from L'Incoronazione di Dario (RV 719) (5.12)
[6] Sentirò fra ramo from L'Incoronazione di Dario (RV 719) (5.17)
Concerto Il Grosso Mogul for violin, strings & continuo, RV 208 (16.12)
[7] Allegro (5.44)
[8] Grave – Recitativo (2.45)
[9] Allegro (7.43)
II: 1733
Concerto for violin, strings & continuo in B flat, RV 367 (13.55)
[10] Allegro mà poco poco (5.50)
[11] Andante mà poco (3.30)
[12] Allegro (4.35)
Arias from Motezuma (RV 723) for mezzo-soprano, strings & continuo (12.17)
[13] Quel rossor ch'in volto miri (7.20)
[14] In mezzo alla procella (4.57)
Concerto for violin, strings & continuo in C, RV 191 (14.18)
[15] Allegro mà poco (5.30)
[16] Largo (3.42)
[17] Allegro mà poco (5.06)
Total timing: 76.18
Recorded March 2013, at the Hospital of St. Cross, Winchester
Producer: Simon Fox-Gál