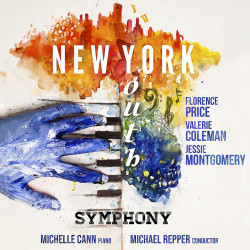 Title:
Works by Florence Price, Jessie Montgomery, Valerie Coleman
Artists:
New York Youth Symphony
Michelle Cann, piano
Michael Repper, conductor
DOWNLOAD AND STREAM
Summary:
"a heartening indication of innocent ears opening to both the undiscovered and the entirely new. They give it their all." – Gramophone
"This has to be one of the most assured and exciting recording-debuts from a youth orchestra since the West-Eastern Divan and the Simon Bolivars hit the ground running: there's a wonderful sheen…" — Presto Music
"This New York Youth Symphony debut recording knocks it out of the ball park." – Miroirs CA
"The NYYS plays it all with panache… this group delivers – and at a very high level." – Arts Fuse
"I cannot imagine the works being performed better than they are here and in resplendent sound." – MusicWeb International
"a remarkable recording… it all adds up to a new release that is well worth seeking out for a good listen." – Classical Candour

In the midst of the COVID pandemic, the remarkably resourceful personnel and musicians of the New York Youth Symphony (NYYS), with Music Director Michael Repper, found a way to come together during a time of separation to make their debut recording. Featuring four works by three African American women composers – Florence Price, Valerie Coleman and Jessie Montgomery – the orchestra's first studio recording includes several premieres. The release coincides with the 115th anniversary of Price's birth.
Two recordings of works by Florence Price are firsts. Ethiopia's Shadow in America is the first recording of the work by an American orchestra. Her Piano Concerto in One Movement, with soloist Michelle Cann, is the premiere recording of the composer's newly-discovered original orchestration. Price's compositional voice blends the African American folk songs and dances of her heritage with the central European Romantic tradition in which she was trained. Her tone poem Ethiopia's Shadow in America evokes the injustices experienced by people of African descent. Her Piano Concerto in One Movement features the exuberant soloist Michelle Cann, a champion of the composer's music, who gave the New York and Philadelphia premieres of the work.
Umoja – meaning "unity" in Swahili – by Grammy-nominated flutist, entrepreneur and composer Valerie Coleman originated as a simple song for women's choir. Its transformation as a work for orchestra – given its first recording here – maintains its feel of a drum circle and sharing of history through a traditional "call and response" form.
In her rich and colourful single-movement symphonic work Soul Force, NYYS alum Jessie Montgomery drew on Dr. Martin Luther King's "I Have a Dream" speech in which he states, "We must not allow our creative protest to degenerate into physical violence. Again and again, we must rise to the majestic heights of meeting physical force with soul force."

Also available: two Florence Price digital singles (click to listen)
Tracklist:
FLORENCE PRICE (1887–1953)
Ethiopia's Shadow in America (1932)
1. I. The Arrival of the Negro in America when first brought here as a slave:
Introduction – Allegretto (7.22)
2. II. His Resignation and Faith: Andante (3.04)
3. III. His Adaptation: Allegro. A fusion of his native and acquired impulses (3.19)
VALERIE COLEMAN (b.1970)
4. Umoja: Anthem of Unity for orchestra (2019) (13.28)
FLORENCE PRICE
5. Piano Concerto in One Movement (original version of 1934) (17.06)
JESSIE MONTGOMERY (b.1981)
6. Soul Force (2015)
Michelle Cann, piano
New York Youth Symphony
Michael Repper, conductor
Recording: 15–18 November 2020, Mary Flagler Cary Hall, DiMenna Center, New York
Producer: Judith Sherman
Engineer: Isaiah Abolin
Assistant Engineers: Neal Shaw, Teng Chen, Joe Cilento
Piano Technician: Joel Bernache
Production Assistant: Jeanne Velonis
Editing: Judith Sherman, John Kilgore, Jeanne Velonis
Mixing: John Kilgore, Judith Sherman, Michael Repper at John Kilgore
Sound Mastering: Judith Sherman, Jeanne Velonis