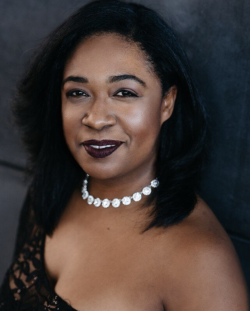 Biography:
Pianist Michelle Cann made her orchestral debut at age fourteen and has since performed as a soloist with numerous ensembles including The Philadelphia Orchestra, The Cleveland Orchestra, the North Carolina Symphony, and the New Jersey Symphony Orchestra.
A champion of the music of Florence Price, Ms. Cann performed the New York City premiere of the composer's Concerto in One Movement with The Dream Unfinished Orchestra in July 2016 and the Philadelphia premiere with The Philadelphia Orchestra in February 2021, which the Philadelphia Inquirer called "exquisite." She has also performed Price's works for solo piano and chamber ensemble for the Cincinnati Symphony Orchestra, Chamber Music Society of Detroit, and the New World Symphony, among other presenters.
Ms. Cann regularly appears in solo and chamber recitals throughout the U.S., China, and South Korea. Notable venues include the National Centre for the Performing Arts (Beijing), the John F. Kennedy Center for the Performing Arts (Washington D.C.), Walt Disney Concert Hall (Los Angeles), and the Barbican (London).
An award winner at top international competitions, in 2019 she served as the Cincinnati Symphony Orchestra's MAC Music Innovator.
Ms. Cann studied at the Cleveland Institute of Music and the Curtis Institute of Music, where she holds the inaugural Eleanor Sokoloff Chair in Piano Studies.