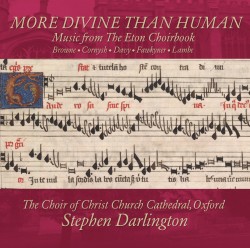 Title:
More Divine Than Human: Music from The Eton Choir Book
Artists:
The Choir of Christ Church Cathedral, Oxford
Stephen Darlington, director
Summary:
When Henry VIII came to the English throne five hundred years ago in 1509, there was a rich and vibrant choral tradition, to the extent that the great theologian Erasmus commented on the dominance of florid choral writing in the liturgy of the Church. The repertory he had in mind can be found in the Eton Choirbook and epitomises a style of composition which demanded extraordinary virtuosity from its performers: it is no surprise that an Italian visitor should have described the singing he heard in 1515 as More Divine Than Human. This recording brings to life some of the most glorious music in the collection, using the original forces of men and boys.
Tracklist:
John FAWKYNER (fl late 15th century)
1. Gaude rosa sine spina (16:35)
William CORNYSH (d. c. 1502)
2. Salve regina (15:42)
Walter LAMBE (b. 1450–51, d. after Michaelmas 1504)
3. Magnificat (12:58)
Richard DAVY (c. 1465 – 1535)
4. In honore summe matris (17:42)
John BROWNE (fl c. 1480–1505)
5. Stabat mater (15:16)
Total time: 78:55
Recorded 16 –18 March 2009 at the Chapel of Merton College, Oxford, England
Recording Produced by David Trendell
Engineered and Edited by Simon Fox-Gál