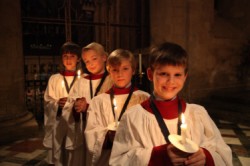 Artist:
Choir of Christ Church Cathedral, Oxford
Biography:
Although Christ Church Cathedral Choir is nearly 500 years old, it is justly famous for the youthfulness of its sound and its daring and adventurous musical programming. Unique in the world as both Cathedral and College choir, the intimate acoustic of its musical home, Oxford's 12th-century Cathedral, has given it a relationship with early sacred music and the rhythm and vigour of contemporary idioms which is second to none.
Throughout its history, the Choir has attracted many distinguished composers and organists, from its first director, John Taverner, appointed by Cardinal Wolsey in 1526 to William Walton. In recent years the choir has commissioned and recorded works by contemporary composers such as Tavener, Mathias and Goodall.
As well as their daily services in the Cathedral the Choir (12 men and 16 boys) has a busy programme of concerts and overseas tours. In addition, the Choir has many award-winning recordings to its credit and works with several international orchestras and soloists.
The Choir broadcasts regularly. They were the subject of a recent channel 4 television documentary in which they were hailed as 'one of the finest choirs on Earth'.
Upcoming Concerts:
Choir of Christ Church Cathedral, Oxford has no upcoming tour dates. Please check back soon.