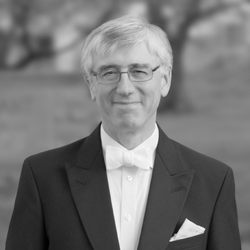 Biography:
Stephen Darlington is one of the country's leading choral conductors. His links with Christ Church began in the early 1970s, as Organ Scholar under Simon Preston. After four years as Assistant Organist at Canterbury Cathedral, he was appointed Master of the Music at St. Albans Abbey, and a year later, became Artistic Director of the world-famous International Organ Festival in succession to Peter Hurford. In 1985 he returned to Christ Church as Organist and Tutor in Music. Since then he has divided his time between establishing the college as an acknowledged centre of academic musical excellence, and maintaining the highest choral traditions of the Church of England in Christ Church Cathedral. His outstanding strength is in his performances of choral music of the 16th century, and of modern sacred music. An extensive discography comprising over 50 CDs, includes several award-winning recordings.
He has travelled worldwide both with the choir and as an organist and conductor. He has directed many well-known orchestras including Australian Brandenburg Orchestra, London Mozart players, English Chamber Orchestra, Northern Sinfonia, Hanover Band, English String Orchestra and London Musici. Under his direction, the choir have sung with many great artists including, Placido Domingo, José Carreras, James Bowman, Paul Whelan and John-Mark Ainsley. Also, he has collaborated with some of the most distinguished contemporary composers such as Judith Weir, John Tavener, Robert Saxton and Howard Goodall.
Stephen is in increasing demand as a guest conductor particularly in the USA and Australia and New Zealand. He is currently Choragus of the University of Oxford, the holder of a Lambeth Doctorate of Music, and from 1999-2001 he was President of the Royal College of Organists.