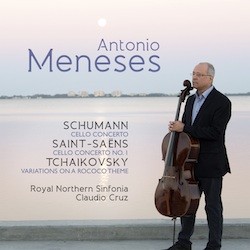 Title:
Saint-Saens, Schumann, Tchaikovsky Cello Concertos
Artists:
Antonio Meneses, cello
Claudio Cruz
Royal Northern Sinfonia
Summary:
In celebration of the 35th anniversary of winning First Prize and the Gold Medal at the International Tchaikovsky Competition in Moscow, as well as his 60th birthday in August 2017, Antonio Meneses adds to his distinguished discography with three works with orchestra he has not previously recorded: Schumann's Cello Concerto in A minor, Saint-Saëns' Cello Concerto No. 1, and Tchaikovsky's Variations on a Rococo Theme. Early, seminal recordings with Herbert von Karajan led to further, phenomenal success and recognition of Antonio's beguiling combination of virtuoso élan and thoughtful introspection. His tenth recording for AVIE, these first concertante recordings form a vital part of his series for the label that includes several cornerstones of the cello repertoire, including Bach's Six Cello Suites, the complete cello music by Beethoven (with pianist Menahem Pressler), the two Haydn concertos, and the Grammy-nominated pairing of concertos by Hans Gál and Edward Elgar for which he was joined by Claudio Cruz and the Royal Northern Sinfonia, as he is on this new release.
Tracklist:
Robert Schumann (1810 – 1856)
Cello Concerto in A minor, Op. 129
1. I. Nicht schnell (11.13)
2. II. Langsam (3.54)
3. III. Sehr lebhaft (7.36)
Camille Saint-Saëns (1835 – 1921)
Cello Concerto No. 1 in A minor, Op. 33
4. Allegro non troppo – (5.35)
5. Allegretto con moto – (4.49)
6. Allegro non troppo (8.41)
Pyotr Ilyich Tchaikovsky (1840 – 1893)
Variations on a Rococo Theme, Op. 33
7. Introduction: Moderato quasi andante – 
Thema: Moderato semplice – (2.28)
8. Variation I: Tempo della tema – (0.51)
9. Variation II: Tempo della tema – (1.13)
10. Variation III: Andante sostenuto – (3.34)
11. Variation IV: Andante grazioso –Un poco animato – (1.57)
12. Variation V: Allegro moderato – Cadenza – (3.22)
13. Variation VI: Andante – (2.21)
14.  Variation VII & Coda: Allegro vivo (2.21)
Total time: 60.29
Recording: 3–4 January 2017, Hall One, Sage Gateshead, England
Producer, balance engineer and editing: Simon Fox-Gál