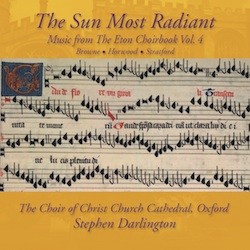 Artists:
The Choir of Christ Church Cathedral, Oxford
Stephen Darlington, director
Summary:
This collection of music from the Eton Choirbook, the vast collection of English sacred music from the early Renaissance, is the fourth in an acclaimed series by Stephen Darlington and The Choir of Christ Church Cathedral, Oxford which has proved to be a thrilling encounter with the remarkable world of the liturgy of Eton College Chapel in the late 15th century. This sumptuous volume includes the first recording of John Browne's second setting of the Salve Regina. This music was firmly rooted in the daily devotional life of the College, appreciated by all and not just a worshipping élite. The boys and men of Christ Church Cathedral choir maintain this tradition with a special affinity for this glorious repertoire and deliver performances of unreserved committment.
critical acclaim for The Choir of Christ Church Cathedral, Oxford
"a disc to send the spirits soaring. Glorious beyond words." – Gramophone, Best of 2009 (on More Divine Than Human)
"The performances here are undoubtedly among the best" – BBC Music Magazine (on Choirs of Angels)
"Stunningly effective singing … insightful and precise direction by Stephen Darlington … a ground-breaking achievement" – Early Music Review (on Courts of Heaven)
Tracklist:
John Browne (fl c 1480–1505)
1. Salve Regina I a 5 (15.01)
2. Salve Regina II a 5 * (18.47)
William Horwood (c. 1430 – 1484)
3. Gaude flore virginali a 5  (14.56)
William Stratford (fl late 15th – early 16th centuries)
4. Magnificat a 4 (19.45)
Total time: 68.42
* first recording
Recording: 14–16 March 2016, Chapel of Merton College, Oxford
Producer: Jeremy Summerly
Balance engineer and editing: Simon Fox-Gál