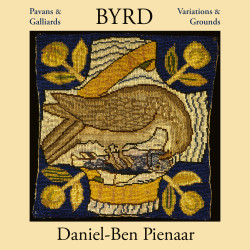 Summary:
"Pithy playfulness … pearly opulence … and heel-kicking virtuosity … Under Pienaar's fingers this Byrd soars! ★★★★" – BBC Music Magazine
"A masterclass of historically informed performance on the piano without compromise but with zip, colour, eloquence and great beauty." – MusicWeb International

Daniel-Ben Pienaar continues his campaign of performing early music on a modern piano with an abundant selection of Pavans & Galliards, Variations & Grounds by William Byrd. The 16th-century composer's finest sets of dances and variations, featuring some of the Elizabethan era's most popular tunes, set the standard for English keyboard music for generations to come. With astonishing virtuosity, Daniel-Ben elicits a wealth of colour and textures from his Steinway model D. Two-and-a-half hours of music spread over two CDs, this is most substantial survey of Byrd's keyboard music ever recorded on a modern piano, and ranges from frequently heard works such as the First Pavan and Sellinger's Round to little-known gems like Callino Casturame and the late, great Quadran Pavan and Galliard.
Tracklist:
WILLIAM BYRD (1543–1623)
CD 1   76.49
1. Pavan in C minor MB 29a ('Pavan the first', My Lady Nevell's Book 10) 5.05
2. Galliard in C minor MB 29b ('Galliard the first', MLNB 11) 1.29
3. Pavan in G MB 71a ('Pavan the second', MLNB 12) 2.32
4. Galliard in G MB 71b ('Galliard the second', MLNB 13) 1.23
5. Pavan in A minor MB 14a ('Pavan the third', MLNB 14) 4.14
6. Galliard in A minor MB 14b ('Galliard the third', MLNB 15) 1.29
7. Pavan in C MB 30a ('Pavan the fourth', MLNB 16) 2.22
8. Galliard in C MB 30b ('Galliard the fourth', MLNB 17) 1.22
9. Pavan in C minor MB 31a ('Pavan the fifth', MLNB 18) 5.09
10. Galliard in C minor MB 31b ('Galliard the fifth', MLNB 19) 1.18
11. Pavan in C MB 32a ('Pavan the sixth', MLNB 20) 4.10
12. Galliard in C MB 32b ('Galliard the sixth', MLNB 21) 1.23
13. Sellinger's Round MB 84 (MLNB 37) 5.18
14. Hornpipe MB 39 5.44
15. O Mistress mine MB 83 5.37
16. John come kiss me now MB 81 4.37
17. Callino Casturame MB 35 2.14
18. Pavan: Canon 2 in 1 MB 74 ('Pavan the seventh', MLNB 22) 4.13
19. Pavan in A minor MB 17 ('Pavan the eighth', MLNB 23) 4.44
20. Passamezzo Pavan MB 2a ('Pavan the ninth', MLNB 24) 5.35
21. Passamezzo Galliard MB 2b ('Galliard the ninth', MLNB 25) 4.12
22. Rowland, or Lord Willoughby's Welcome Home MB 7 (MLNB 33) 2.30
CD 2   78.10
1. Qui Passe: for my Lady Nevell MB 19 (MLNB 2) 4.12
2. Hugh Ashton's Ground, or Tregian's Ground MB 20 (MLNB 35) 8.29
3. My Lady Nevell's Ground MB 57 (MLNB 1) 5.19
4. Pavan: Sir William Petre MB 3a (Parthenia, also 'Pavan the tenth', MLNB 39) 5.31
5. Galliard: Sir William Petre MB 3b (Parth., also 'Galliard the tenth', MLNB 40) 2.00
6. Galliard: Mistress Mary Brownlow MB 34 (Parth.) 2.32
7. Pavan: The Earl of Salisbury MB 15a (Parth.) 1.32
8. Galliard: The Earl of Salisbury MB 15b (Parth.) 0.56
9. Second Galliard: The Earl of Salisbury MB 15c (Parth.) 2.17
10. Go from my Window Now MB 79 3.13
11. The Second Ground MB 42 (MLNB 30) 8.27
12. The Woods so Wild MB 85 (MLNB 27) 4.43
13. Walsingham MB 8 (MLNB 31) 6.39
14. The Bells MB 38 5.29
15. Quadran Pavan MB 70a 8.51
16. Quadran Galliard MB 70b 3.54
17. The Carman's Whistle MB 36 (MLNB 34) 3.57
18. Fantasia, MB13 8.31        DIGITAL BONUS TRACK
Daniel-Ben Pienaar, piano
Recorded: 27–30 January 2020, Potton Hall, Suffolk, England
Sound Engineer: Philip Hobbs | Mapping and Editing: Daniel-Ben Pienaar | Mastering: Adaq Khan