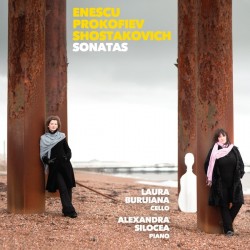 Artists:
Laura Buruiana, cello
Alexandra Silocea, piano
Summary:
Pianist Alexandra Silocea joins with fellow-Romanian cellist Laura Buruiana in two Russian staples of the repertory, the Sonatas of Prokofiev and Shostakovich, with a much rarer offering by compatriot George Enescu, the single-movement Sonata in F minor, an early work that only recently came to light. Both Russian works bear the influence of the cello titan Mstislav Rostropovich. Enescu's was penned in 1898 while he was a teenage student at the Paris Conservatoire; the manuscript was rediscovered 90 years later. Silocea has distinguished herself on previous AVIE releases in repertoire ranging from Debussy and Ravel to Liszt and, notably, Prokofiev. Among Buruiana's distinctions is first prize in the New York-based Young Concert Artists competition in 2003, and a PhD summa cum laude from the National University of Music in Bucharest, where she devoted her thesis to the Enescu F minor Sonata.
Tracklist:
George Enescu (1881–1955)
1. Cello Sonata in F minor – Allegro (9.06)
Sergei Prokofiev (1891–1953)
Cello Sonata in C, Op. 119
2. I. Andante grave (10.08)
3. II. Moderato (4.23)
4. III. Allegro, ma non troppo (7.18)
Dmitri Shostakovich (1906–1975)
Cello Sonata in D minor, Op. 40
5. I. Allegro non troppo – Largo (10.48)
6. II. Allegro (3.13)
7. III. Largo (6.59)
8. IV. Allegro (4.01)
Total time: 56.11
Recording: 3–6 September 2013, Église protestante de Bon Secours, Paris, France Recording producer & engineer: Sébastien Chonion