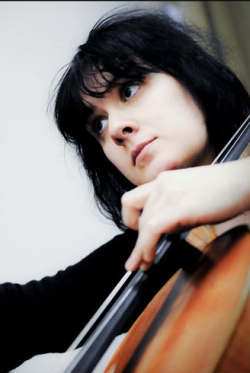 Biography:
Born in Bucharest in 1980, Laura Buruiana started playing the modern cello at the age of ten and the viola da gamba and baroque cello in 2008.
Her career took off after winning the first prize at the prestigious Young Concert Artists Auditions in New York in 2003. The press described her as «a bonafide virtuoso, drawing a wealth of color, drama, and flowing line from her instrument» (New York Times).
Laura studied modern cello with Vasile Tugui, Marin Cazacu and Frans Helmerson, baroque cello with Antoine Ladrette and viola da gamba with Martin Bauer. In 2012 she obtained her PhD in musical interpretation with"summa cum laudae" awarded by the National University of Music from Bucharest under the guidance of Serban-Dimitrie Soreanu.
She has performed as a soloist with major orchestras such as the Philharmonia and the Chamber Orchestra of Berlin Philharmonic, Philharmonic and Radio Orchestra from Bucharest, Ensemble Orchestral de Paris, the orchestras of Shanghai, Santander, Frankfurt, North Carolina, Bari, in venues such as the Kennedy Center, Kaufmann, Yale and Merkin, Gardner Museum, Salle Cortot, Column and Musée des Invalides in Paris, Chateau de Fontainebleau, Concertgebouw, Konzerthaus Berlin Philharmonic, Salle Flagey and participated at important international festivals such as the Festival "George Enescu", the Festival of Two Worlds, the Rheingau Festival, the Festival of Usedom, the Festival Young Euro Classic Berlin.
Laura has already released on CD for Naxos, Coviello Classics and Zig-Zag Territories.
She plays a Caussin cello built in 1850.