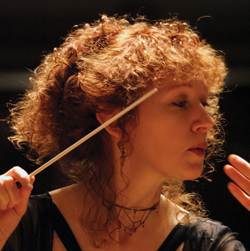 Biography:
GRAMMY®-winning conductor Jeannette Sorrell is recognized internationally as one of today's most compelling interpreters of Baroque and Classical repertoire, and a leader in creative programming exploring cultural roots. She is the subject of the documentary by Oscar-winning director Allan Miller, titled PLAYING WITH FIRE: Jeannette Sorrell and the Mysteries of Conducting (commercially released in 2023).
Sorrell studied conducting at the Aspen and the Tanglewood music festivals under Leonard Bernstein and Roger Norrington and harpsichord with Gustav Leonhardt in Amsterdam. She won First Prize in the Spivey International Harpsichord Competition, competing against over 70 harpsichordists from four continents.
Sorrell made her New York Philharmonic debut in 2021 and Philadelphia Orchestra debut in 2022, both to rave reviews. She has repeatedly conducted the Pittsburgh Symphony, St. Paul Chamber Orchestra, Seattle Symphony, Utah Symphony, Florida Orchestra, New World Symphony, and Philharmonia Baroque in San Francisco; and has also led the Royal Liverpool Philharmonic (Bach's St. John Passion), the National Symphony at the Kennedy Center, Los Angeles Chamber Orchestra, Opera St. Louis with the St. Louis Symphony, and Grand Rapids Symphony, among others. In 2023-24 she returns to the New York Philharmonic and debuts with the Royal Scottish National Orchestra, the Baltimore Symphony, Houston Symphony, and Indianapolis Symphony.
As founder and conductor of APOLLO'S FIRE, she has led the renowned ensemble at London's BBC Proms, Carnegie Hall, and many international venues. Sorrell and Apollo's Fire have released 30 commercial CDs, including 11 bestsellers on the Billboard classical chart and a 2019 GRAMMY® winner. Her CD recordings of the Bach St. John Passion and Vivaldi's Four Seasons have been chosen as best in the field by the Sunday Times of London (2020 and 2021). Her Monteverdi Vespers recording was chosen by BBC Music Magazine as one of "30 Must-Have Recordings for Our Lifetime" (September 2022). With over 14 million views of her YouTube videos, Sorrell has attracted national attention and awards for creative programming.