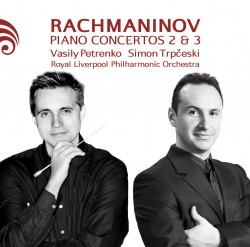 Title:
Rachmaninov: Piano Concertos Nos. 2 & 3
Price:
£12.49 [BUY CD from AVIE Records direct]
DOWNLOAD AND STREAM
Summary:
Macedonian pianist Simon Trpčeski is one of the most remarkable musicians of his generation. He makes his Avie label debut with his first concerto recording, technically flawless and superbly rendered versions of Rachmaninov's notoriously challenging Piano Concertos Nos. 2 and 3. He partners with frequent collaborator Vasily Petrenko who, with the Royal Liverpool Philharmonic Orchestra, extend their fruitful Avie association with this, the first of two recordings with Trpčeski surveying Rachmaninov's complete concertante works for piano and orchestra.
Trpčeski has performed extensively around the globe, and has played with the New York and Los Angeles Philharmonic orchestras, London Symphony and London Philharmonic, the Royal Concertgebouw and NDR Hamburg, and the New Japan and Hong Kong Philharmonics, among others. In recital, he is heard regularly at London's Wigmore Hall and the Southbank Centre. Winner of the London International Piano Competition in 2000, he was a member of the BBC New Generation scheme and winner of the Royal Philharmonic Society's Young Artist Award in 2003. A Gramophone Award-winning artist, his first concerto recording will be eagerly sought out.
Since becoming Principal Conductor of the Royal Liverpool Philharmonic Orchestra in 2006, Petrenko has had a galvanising effect on Classic FM's Orchestra in the Northwest. Multiple Gramophone Awards and unanimous critical acclaim have further spread their magical brand of music-making.
Together, Trpčeski and Petrenko are a potent pair. Reviewing the RLPO's season opening concert in September 2009 which featured the pianist in Rachmaninov's Third Concerto, The Guardian noted, "Petrenko's Rachmaninov is passionate yet strikingly unsentimental. This approach fits well with that of his soloist Simon Trpčeski, whose playing of this most difficult of concertos combined impish nonchalance with great muscularity. Much of it was dazzling – above all, the discreet brilliance that Trpčeski and Petrenko brought to the finale. Yet the performance was also as much about form as it was about bravura: Trpčeski dispatched the first-movement cadenza with breathtaking panache."
Tracklist:
SERGEI RACHMANINOV (1873–1943)
Piano Concerto No. 2 in C minor (33:49)
1. I Moderato (10:20)
2. II Adagio sostenuto (11:40)
3. III Allegro scherzando 11:49)
Piano Concerto no. 3 in D minor (41:57)
4. I Allegro ma non tanto (16:53)
5. II Intermezzo: Adagio (10:45)
6. III Finale: Alla breve (14:19)
Total duration: (75:46)
Simon Trpčeski, piano
Royal Liverpool Philharmonic Orchestra
Vasily Petrenko
Recorded at Philharmonic Hall, Liverpool, England on 8 and 9 April, and 1 August 2009
Producer: John Fraser
Engineer: Dave Pigott
Editor: Julia Thomas
Post-Production & Mixing: Philip Hobbs