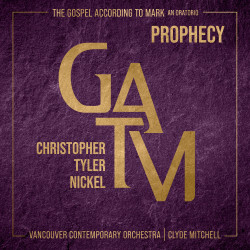 Artists:
Catherine Redding, soprano | Fabiana Katz, mezzo-soprano
Carman J. Price, tenor | Steven Bélanger, baritone
Vancouver Contemporary Orchestra
Clyde Mitchell, conductor
DOWNLOAD AND STREAM
Summary:
The Prophecy is the second of three digital EPs foreshadowing the Easter 2023 release of Canadian composer Christopher Tyler Nickel's epic, 7-CD oratorio setting of the complete Gospel According to Mark. The EP's five movements – "John the Baptist", "The Entry into Jerusalem", "Jesus Anointed", "Gethsemane" and "The Lord's Supper" – are characterised by timeless qualities of peace, introspection and reflection.
The Prophecy EP, excerpted from the oratorio The Gospel According to Mark, highlights movements that encapsulate the theme of the Prophecy of Christ. The first track 'John the Baptist' introduces the listener to the 'prophecy motif', which is used throughout the oratorio to delineate the miracles and acts of healing performed by Jesus. This theme has a timeless quality that speaks to something greater beyond our world through its reaching, aspiring, and yet serene qualities. It is also often employed as a harmonic foundation for other sections in the work that are related thematically in the narrative. 'The Entry into Jerusalem' is based on a recurring 7/8 motif. Here the motif pushes the narrative toward fulfilment of the prophecy, represented by the increased energy and celebratory feeling. 'Jesus Anointed' is a special moment in the oratorio, as it paints the picture of a bittersweet gift and a moment of peace. There is also an acknowledgment here that Jesus' arrest and crucifixion are at hand, and the music provides a moment of reflection and perhaps resignation that carries into the depiction of 'Gethsemane'. The muted 'The Lord's Supper' is ceremonial in nature and rooted in a variation of the 7/8 motif heard earlier. Finally, 'Gethsemane' paints tension and ambiguity by alternating minor and major resolutions throughout this asymmetric hymn. An introspective movement, it contains many conflicting emotions: anguish and resignation, yet also courage and resolve. There is something incredibly moving about this text that, in my mind, encapsulates the essence of Christianity with its foretold knowledge of the road that must be taken, as well as its responsibility, sacrifice, care for others, and view outside of one's self to see the essence of the universe. My hope is that these selections capture and elevate these nuances of emotion.
Tracklist:
CHRISTOPHER TYLER NICKEL (b. 1978)
GATM – Prophecy
Excerpts from The Gospel According to Mark, an oratorio
1. I. John the Baptist 3.27
2. II. The Entry into Jerusalem 4.26
3. III. Jesus Anointed 3.06
4. IV. The Lord's Supper 3.44
5. V. Gethsemane 3.52 
Catherine Redding, soprano (1, 2, 4, 5) · Fabiana Katz, mezzo-soprano (1, 2, 4, 5)
Carman J. Price, tenor (1–5) · Steven Bélanger, baritone (1–5)
Vancouver Contemporary Orchestra
Clyde Mitchell, conductor
Mixed and mastered by Vince Renaud at VR Sound (vincerenaud.com)
Orchestra Contractor: Hal Beckett (vancouverfilmorchestra.com)
Produced by Christopher Tyler Nickel | Edited by Mikhelvin Chuahuico, Christopher Tyler Nickel & Vince Renaud
Print music is available from the Canadian Music Centre
Recorded: June–July 2019, Armoury Studios, Vancouver (armourystudios.com)
Engineer: Vince Renaud · Score Reader: Bruce Carabine
For Armoury Studios – Assistant Engineer: Spencer Bleasdale · Studio Assistant: Ricardo Germain · Manager: Paul Silveira