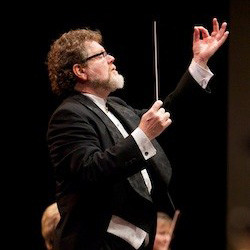 Biography:
Clyde Mitchell is Founding Music Director of Lions Gate Sinfonia, the professional orchestra of Vancouver's beautiful North Shore. He has also created the growing Lions Gate Youth Orchestra.
After a Bachelor of Music from Louisiana State University and Master of Arts from California State University-Northridge, Clyde had a fine career as a professional hornist. He played principal horn in the Orquesta Sinfonica de Colombia in Bogotá and the Tucson Symphony in Arizona. He then served as associate principal horn in the prestigious Montreal Symphony under Charles Dutoit, and taught at McGill University in Montreal.
Returning to university to study conducting, Clyde received a Master's Degree from CSU-Long Beach and Artist's Diploma from the highly respected University of Southern California under esteemed conducting professor Daniel Lewis. Mitchell returned to Canada as conductor of several youth and amateur orchestras in Ontario before winning the position of Resident and Associate Conductor of the Vancouver Symphony, a position he held for nine years. He then followed his dream of creating a new orchestra; with the help of many followers and lovers of classical music on Vancouver's beautiful North Shore, Lions Gate Sinfonia was born in 2000! Clyde enjoys a busy guest-conducting career with the orchestras of Toronto, Montreal, Winnipeg, Edmonton, Calgary, Victoria, Hamilton, and Ottawa's National Arts Centre Orchestra. He has also conducted in the United States, Asia, South America, and Europe.
Clyde continues to be an enthusiastic promoter of music education, as well as of Canadian composers and soloists. He frequently works as a clinician and teacher for youth orchestras and bands across the country. A fun extra career sees Clyde as a speaker and host for radio and TV shows about Classical Music, including MASTERWORKS on the Knowledge Network. He divides his time between Vancouver and Los Angeles, where his wife Sarah Jackson is solo piccolo for the LA Philharmonic.
Clyde's recent guest conducting experiences include Honor Orchestras in several states in the U.S., the KotorArt Festival in Montenegro, the North Czech Philharmonic Orchestra Teplice, the Transylvania State Philharmonic in Cluj-Napoca, Romania, the Funabashi Symphony Orchestra in Chiba, Japan, the Chiba Festival Honour Orchestra, and over a dozen orchestras in China.