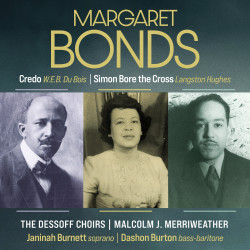 Title:
Margaret Bonds: Credo, Simon Bore the Cross
Artists:
Janinah Burnett, soprano
Dashon Burton, bass-baritone
The Dessoff Choirs
Malcolm J. Merriweather, director
DOWNLOAD AND STREAM
Summary:
"Beautifully performed here, these two late choral works encapsulate both the warmth of Bonds' musical language and her passionate advocacy for racial justice. The Dessoff Choirs give a nuanced and committed performance throughout … landmark recording" – ★★★★★ BBC Music Magazine
"immensely rewarding listening … arresting and imaginative" Editor's Choice – Presto Music 
"Burton's voice is a joy, his diction superb. Burnett, who here sounds right out of the gospel tradition, is equally strong, with her most arresting tones higher in the range. The sustained C-sharp at the close of the second movement of Credo is a stunner. Highly recommended." – SF Classical Voice
"lyrical, lush and grateful to sing

 … 

an impressive presentation of two major scores by a composer who is gradually becoming recognised for her contribution to both the field of music and social equality"
–
MusicWeb International
"The revival of interest in music by Margaret Bonds must count as one of the most positive turns in classical music these past couple of years … striking for its melodic naturalness … Merriweather draws rousing performances from the Dessoffs" – The Arts Fuse
"a sterling performance … brings new luster and the utmost care of execution, to not one but two of Bonds' celebrated late works. Under the baton of Malcolm J. Merriweather, The Dessoff Choirs has a profound simpatico with Bond's mature compositional style, a glowing synthesis of African American and European concert music. The chorus is also firmly aligned with the composer's vision, and the way in which its realization today extends a legacy." – wrti 90.1

The Dessoff Choirs and Orchestra, conductor Malcolm J. Merriweather and soloists soprano Janinah Burnett and bass-baritone Dashon Burton, give world-premiere recordings of two seminal choral works by African American composer Margaret Bonds: Credo and Simon Bore the Cross.
New York City-based The Dessoff Choirs, instrumental in re-establishing the music of 20th-century African American composer Margaret Bonds with the world-premiere recording of her Christmas oratorio The Ballad of the Brown King, present two more Bonds premieres: new orchestrations of her cantata Simon Bore the Cross created with long-time collaborator and friend Langston Hughes, and the large-scale Credo set to prose by W. E. B. Du Bois.
Akin to The Ballad of the Brown King, which centred around the dark-skinned king Balthazar who journeyed to Bethlehem to witness the birth of Jesus Christ, Bonds' and Hughes' North African Simon carried Jesus's cross on the way to Calvary, giving African American audiences an opportunity to see themselves within the biblical canon.
Credo bears Bonds' evocative vocal writing style infused with elements from various black musical genres. The first complete performance of the work was given in 1973, to rave reviews: "Credo verified her talent, her sensitivity, her proficiency as orchestrator and her concern for the Negro spiritual" (Los Angeles Times).
Written during the last decade of Bonds' life, neither work was performed in its entirety during the composer's lifetime. With this release – coinciding with Black History Month – conductor Malcolm J. Merriweather, The Dessoff Choirs and Orchestra and soloists soprano Janinah Burnett and bass-baritone Dashon Burton, bring Margaret Bonds' beautiful and spiritual music back to life, conveying a powerful message that remains poignant and relevant for music lovers today.
Tracklist:
MARGARET BONDS (1913–1972)
CREDO
Text: W.E.B. Du Bois 1868–1963 ed. Rollo Dilworth
1. I. I Believe in God 2.30
2. II. Especially do I Believe in the Negro Race 3.23
3. III. I Believe in Pride of Race 3.03
4. IV. I Believe in the Devil 1.32
5. V. I Believe in the Prince of Peace 6.10
6. VI. I Believe in Liberty 4.24
7. VII. I Believe in Patience 2.19
SIMON BORE THE CROSS
Text: Langston Hughes 1901–1967
ed. & arr. Malcolm J. Merriweather
8. I. Prelude 4.55
9. II. I Find No Fault 1.54
10. III. The Trial 5.34
11. IV. Who Is That Man? 4.02
12. V. Don't You Know, Mary? 4.06
13. VI. Walkin' to Calvary 8.38
14. VII. The Crucifixion 4.18
15. VIII. Postlude: Resurrection 5.34
Total duration: 62.58
Janinah Burnett, soprano solo (2, 11, 13)
Dashon Burton, bass-baritone solo (6, 9, 13)
The Dessoff Choirs
Malcolm J. Merriweather, director
Recording: 30 April & 1 May 2022, Church of the Heavenly Rest, Manhattan, New York
Recording Producer and Recording, Mixing & Mastering Engineer: Marlan Barry