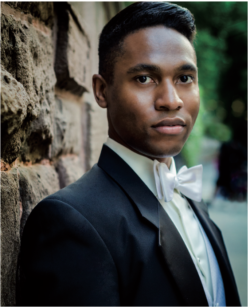 Biography:
Conductor and baritone Malcolm J. Merriweather is the ninth Music Director of The Dessoff Choirs. He is also an Assistant Professor, Director of Choral Studies and Voice Department Coordinator at Brooklyn College of the City University of New York; Artist in Residence at Union Theological Seminary; and Artistic Director of Voices of Haiti, a 60-member children's choir in Port-au- Prince, Haiti operated by the Andrea Bocelli Foundation.
Merriweather has conducted ensembles in Carnegie Hall, Lincoln Center, Madison Square Garden, Westminster Abbey, and at the Vatican before Pope Francis. His repertoire ranges from J.S. Bach to world premieres of contemporary music by Eve Beglarian and Matthew Aucoin.
Merriweather has also been featured as a baritone soloist throughout the United States. He has premiered contemporary solo works by Eve Beglarian, John Liberatore, Ju Ri Seo, Douglas Fisk, and James Adler. He received fellowships at the Norfolk Chamber Music Festival and at the Tanglewood Music Center.
Dr. Merriweather has earned degrees from the Eastman School of Music, Manhattan School of Music, and Syracuse University (summa cum laude).