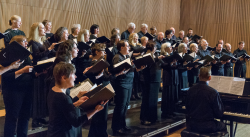 Biography:
The Dessoff Choirs is one of New York City's leading choruses. Founded in 1924 by Margarete Dessoff, the group has a reputation for pioneering performances of choral works from the pre-Baroque era through the 21st century. The plural "s" in Choirs connotes the group's 40-voice core, plus the Symphonic Choir assembled for larger collaborative engagements and a smaller Chamber Choir selected for more intimate works.
Dessoff produces its own New York concert series each year, and, over its 95 seasons, has presented numerous world premieres, including works by Virgil Thomson, George Perle, Paul Moravec, David Hurd, Ricky Ian Gordon, Eve Beglarian, and Matthew Aucoin. Dessoff also collaborates frequently with local and visiting ensembles, including appearances in the American premieres of Philip Glass' Symphony No. 5 and Sir John Tavener's all-night vigil, The Veil of the Temple. In recent seasons, engagements have ranged from Lorin Maazel's final perform- ances as music director of the New York Philharmonic, in Britten's War Requiem and Mahler's Symphony No. 8, to an East Coast tour with British rock star Ray Davies.
In the mid-20th century, Dessoff published 48 editions of the Dessoff Choir Series and released 13 LPs that helped introduce Renaissance music to the U.S. audience.
MARGARET BONDS: The Ballad of the Brown King & Selected Songs is Dessoff's third commercial recording of American music. Previous releases were Reflections (1999), featuring works by Robert Convery, John Corigliano, Paul Moravec, and Ned Rorem, and Glories on Glories (2009), a live recording of American song ranging from Billings to Ives. Dessoff can also be heard with the New York Philharmonic in Mahler's Symphony No. 8, available on iTunes.