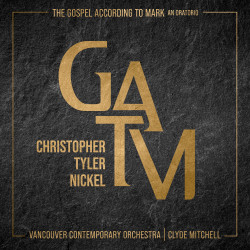 Title:
Nickel: The Gospel According to Mark
Price:
£34.99 [7CD Deluxe box set, 20 page booklet]
DOWNLOAD AND STREAM
Summary:
"One epic gospel … you have to admire Christopher Tyler Nickel's vision .. the performances are compelling" - BBC Music Magazine

Multi-award-winning Canadian composer Christopher Tyler Nickel has created a truly unique magnum opus: The Gospel According to Mark, a seven-hour oratorio setting the disciple's text from the King James bible in its entirety.
What originated as an idea to distil the text, as most passion music does, Chris quickly became more interested in setting the complete prose. He chose to compose a work employing an English Protestant text, rather than the more traditional Latin or German, envisioning The Gospel According to Mark as a seven-hour-long prayer.
With the text as Chris' starting point, the musical motifs and melodies followed, setting concepts including the themes of teaching, healing, miracles, forgiveness, death and resurrection.
The scope of the text is illuminated by scaled-down forces – chamber-sized string orchestra plus two horns, oboe (doubling oboe d'amore) and cor anglais (doubling bass oboe), with soprano, alto, tenor and bass solo voices.
Unlike other oratorios, the singers do not represent any particular person but rather act as a chorus of storytellers. Chris explains, "This nebulous use of the voices, which sidesteps role assignment, keeps the vocal parts more abstract and hence the listener focused on the text."
With Chris' faith as his guide, The Gospel According to Mark takes the listener a journey through the contrasts of peacefulness and agitation, darkness and light.
Tracklist:
CHRISTOPHER TYLER NICKEL (b. 1978)
The Gospel According to Mark, an oratorio
CD1 – 63.10
1. Sinfonia 2.05
Chapter 1
2. Verses 1–8: John the Baptist 12.35
3. Verses 9–13: The Baptism and Temptation of Jesus 3.14
4. Verses 14–20: Jesus Calls Peter and the Fishermen 4.36
5. Verses 21–28: Jesus Heals Many – Part 1 4.40
6. Verses 29–34: Jesus Heals Many – Part 2 4.21
7. Verses 35–39: Jesus Preaches in Galilee 1.58
8. Verses 40–45: Jesus Heals a Man 5.06
Chapter 2
9. Verses 1–12: Jesus Heals a Paralysed Man 12.45
10. Verses 13–17: Jesus Calls Levi 3.53
11. Verses 18–22: The Question about Fasting 3.47
12. Verses 23–27: The Question about the Sabbath 3.40
Catherine Redding, soprano (2–12) · Fabiana Katz, mezzo-soprano (2–12)
Carman J. Price, tenor (2–7, 9) · Steven Bélanger, baritone (2–7, 9, 10)
CD2 – 53.42
Chapter 3
1. Verses 1–6: The Man with a Paralysed Hand 3.57
2. Verses 7–12: The Crowd by the Lake 3.15
3. Verses 13–19: Jesus Ordained Twelve 2.42
4. Verses 20–30: Jesus Speaks of Satan 4.33
5. Verses 31–35: Jesus' Mother and Brothers 4.56
Chapter 4
6. Verses 1–9: The Parable of the Sower 3.55
7. Verses 10–12: The Purpose of the Parables 2.03
8. Verses 13–25: Jesus Explains the Parable of the Sower 4.42
9. Verses 26–29: The Parable of the Growing Seed 1.50
10. Verses 30–34: The Parable of the Mustard Seed 3.01
11. Verses 35–41: Jesus Calms a Storm 5.04
Chapter 5
12. Verses 1–20: Jesus Heals a Man with Evil Spirits 6.39
13. Verses 21–43: The Woman Who Touched Jesus' Cloak and Jairus' Daughter 6.30
Catherine Redding, soprano (1, 3, 4, 6, 9, 11, 12) · Fabiana Katz, mezzo-soprano (1–3, 6, 7, 9, 11, 12)
Carman J. Price, tenor (1, 5, 8, 11, 12) · Steven Bélanger, baritone (1, 8, 10–13)
CD3 – 49.55
Chapter 6
1. Verses 1–5: Jesus Is Rejected at Nazareth 4.39
2. Verses 6–13: Jesus Sends Out the Disciples 1.56
3. Verses 14–29: The Death of John the Baptist 9.21
4. Verses 30–44: Jesus Feeds Five Thousand 4.37
5. Verses 45–56: Jesus Walks on Water and Heals the Sick in Gennesaret 9.11
Chapter 7
6. Verses 1–13: The Teaching of the Ancestors 7.23
7. Verses 14–23: The Things That Make a Person Unclean 5.08
8. Verses 24–30: A Woman's Faith 2.23
9. Verses 31–37: Jesus Heals a Deaf-Mute 4.55
Catherine Redding, soprano (1, 3–7, 9) · Fabiana Katz, mezzo-soprano (1, 3–9)
Carman J. Price, tenor (1–7, 9) · Steven Bélanger, baritone (3, 4, 6, 7, 9)
CD4 – 74.29
Chapter 8
1. Verses 1–10: Jesus Feeds Four Thousand People 2.54
2. Verses 11–13: The Pharisees Ask Jesus For a Miracle 1.48
3. Verses 14–21: The Yeast of the Pharisees and of Herod 2.34
4. Verses 22–26: Jesus Heals a Blind Man 3.11
5. Verses 27–30: Peter's Declaration about Jesus 2.40
6. Verses 31–38: Jesus Speaks of His Death 7.52
Chapter 9
7. Verse 1 – Introduction 0.54
8. Verses 2–13: The Transfiguration 8.50
9. Verses 14–29: Jesus Heals a Boy 5.31
10. Verses 30–32: Jesus Speaks Again of His Death 2.41
11. Verses 33–41: Capernaum 2.37
12. Verses 42–50: Temptations to Sin 4.19
Chapter 10
13. Verses 1–12: Jesus Teaches of Divorcement 6.45
14. Verses 13–16: Jesus Blesses Children 2.18
15. Verses 17–31: The Rich Man 5.21
16. Verses 32–34: Jesus Speaks Again of His Death 3.48
17. Verses 35–45: The Request 3.47
18. Verses 46–52: Blind Bartimaeus 6.08
Catherine Redding, soprano (2, 4, 6, 8, 12–14, 18) · Fabiana Katz, mezzo-soprano (3, 4, 6–8, 12–14, 18)
Carman J. Price, tenor (1, 6, 8, 12, 13, 16, 18) · Steven Bélanger, baritone (5, 6, 8–13, 15–18)
CD5 – 53.39
Chapter 11
1. Verses 1–11: The Entry into Jerusalem 8.21
2. Verses 12–14: Jesus Curses a Fig Tree 3.18
3. Verses 15–19: The Temple in Jerusalem 2.57
4. Verses 20–26: The Lesson of the Fig Tree 3.13
5. Verses 27–33: The Question of Jesus' Authority 5.15
Chapter 12
6. Verses 1–17: The Parable of the Vineyard 7.41
7. Verses 18–27: The Question about Rising from Death 5.45
8. Verses 28–34: The Greatest Commandment 7.01
9. Verses 35–37: The Question about the Messiah 3.20
10. Verses 38–40: Jesus Warns about Teachers of the Law 2.17
11. Verses 41–44: The Widow's Offering 4.02
Catherine Redding, soprano (1, 4, 8–11) · Fabiana Katz, mezzo-soprano (1, 8, 11)
Carman J. Price, tenor (1–3, 5–8, 11) · Steven Bélanger, baritone (1–3, 6–8, 11)
CD6 – 76.10
Chapter 13
1. Verses 1–2: Jesus Foretells the Destruction of the Temple 2.20
2. Verses 3–13: Persecutions 23
3. Verses 14–23: The Abomination 8.53
4. Verses 24–27: The Coming 58
5. Verses 28–31: The Lesson of the Fig Tree 2.04
6. Verses 32–37: No One Knows the Hour 5.20
Chapter 14
7. Verses 1–2: The Conspiracy Against Christ 2.08
8. Verses 3–9: Jesus Anointed 5.33
9. Verses 10–11: Judas Agrees to Betray Jesus 1.20
10. Verses 12–16: The Passover Meal 2.15
11. Verses 17–21: Foretells of the Betrayal 2.42
12. Verses 22–26: The Lord's Supper 3.43
13. Verses 27–31: Foretells of Peter's Denial 34
14. Verses 32–42: Gethsemane 7.35
15. Verses 43–52: Jesus' Arrest 4.51
16. Verses 53–65: Jesus Before the Council 4.37
17. Verses 66–72: Peter Denies Jesus 6.10
Catherine Redding, soprano (1, 3, 4, 11–17) · Fabiana Katz, mezzo-soprano (1, 3, 4, 11, 12, 14–17)
Carman J. Price, tenor (1–6, 8, 11, 12, 14–17) · Steven Bélanger, baritone (2–4, 7–12, 14–17)
 CD7 – 47.32
Chapter 15
1. Verses 1–5: Jesus Brought Before Pilate 2.19
2. Verses 6–15: Jesus Sentenced to Death 5.21
3. Verses 16–20: The Soldiers Scorn Jesus 3.38
4. Verses 21–32: The Crucifixion 5.15
5. Verses 33–41: The Death of Jesus 5.52
6. Verses 42–47: The Burial of Jesus 3.57
Chapter 16
7. Verses 1–8: The Resurrection 5.18
8. Verses 9–18: Jesus Appears to Mary Magdalene and to the Disciples 10.46
9. Verses 19–20: The Ascension and Amen 4.43
Catherine Redding, soprano (2–9) · Fabiana Katz, mezzo-soprano (1–7, 9)
Carman J. Price, tenor (1–5, 7, 9) · Steven Bélanger, baritone (1–5, 7, 9)
Vancouver Contemporary Orchestra
Clyde Mitchell, conductor
Sung texts available to download: https://avie-records.com/wordpress/AV2562/GATM_texts.pdf
Mixed and mastered by Vince Renaud at VR Sound (vincerenaud.com)
Orchestra Contractor: Hal Beckett (vancouverfilmorchestra.com)
Produced by Christopher Tyler Nickel | Edited by Mikhelvin Chuahuico, Christopher Tyler Nickel & Vince Renaud
Print music is available from the Canadian Music Centre
Recorded: June–July 2019, Armoury Studios, Vancouver (armourystudios.com)
Engineer: Vince Renaud · Score Reader: Bruce Carabine
For Armoury Studios – Assistant Engineer: Spencer Bleasdale · Studio Assistant: Ricardo Germain · Manager: Paul Silveira