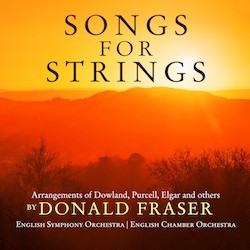 Title:
Songs for Strings: Arrangements of Dowland, Purcell, Elgar and others by Donald Fraser
Artists:
English Symphony Orchestra
English Chamber Orchestra
Donald Fraser, conductor
Summary:
In the 1990s, Donald Fraser scored a hit with his orchestral arrangement of Marin Marais' baroque classic The Bells of St. Genevieve which reached the Top 5 of Billboard's Classical Chart and remains a radio evergreen to this day. Numerous commissions for arrangements followed for musicians such as The King's Singers, Yehudi Menuhin and the English Chamber Orchestra. In 2016, AVIE released Don's large-scale orchestration of Edward Elgar's Piano Quintet and choral version of Sea Pictures, which charted in the Top 10 of the UK Specialist Classical Chart. Don now returns to the art of arranging smaller scale, classic works by John Dowland, Henry Purcell, Antonio Vivaldi and others, including new versions of his own "Amen" from A Christmas Symphony which was written for and premiered by soprano Jessye Norman, a new re-mix of The Bells of St. Genevieve and orchestrations of four Elgar art songs that evoke the album's title, Songs for Strings.
Tracklist:
Songs for Strings: Arrangements of Dowland, Elgar, Purcell and others by Donald Fraser
Edward Elgar (1857 – 1934)
1. The Queen's Hall (4.02)
John Dowland (1563 – 1626)
2. And Time Stands Still (3.31)
Henry Purcell (1659 – 1695)
3. Ground in C (3.29)
Antonio Lotti (1667 – 1740)
4. Crucifixus (3.15)
Nicola Antonio Porpora (1686 – 1768)
5. Fugue in G (3.22)
Antonio Vivaldi (1678 – 1741)
6. Largo from Concerto for Two Cellos, RV 531 (3.57)
David Fraser, Piper to the Laird Lovat
7. Lord Lovat's Lament (4.28)
Franz Liszt (1811 – 1886)
8. Nuage Gris (Grey Clouds) (3.53)
Alexander Scriabin (1872 – 1915)
9. Canon (3.56)
Maurice Ravel (1875 – 1937)
10. Valse (in the manner of Borodin) (3.04)
Edward Elgar (1857 – 1934)
11. Pleading (3.16)
12. A Child Asleep (6.16)
13. Queen Mary's Lute Song (4.08)
Donald Fraser (b. )
14. Epilogue : Amen from A Christmas Symphony (4.25)
Marin Marais (1656 – 1728)
15. Sonnerie (4.36)
Total time: 58.43
Recorded 5 April 2018, Abbey Road Studio 2, English String Orchestra (2 – 10, 14); 31 July 2013, Abbey Road Studio 1, English Chamber Orchestra Tracks (1, 11 – 13); 27 May 2018, The Barn Studio, Shirland, Illinois (15)
Recording Producer: Donald Fraser
Recording Engineer and Mastering: Simon Kiln