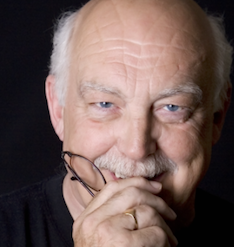 Biography:
Donald began his musical life as a chorister in his local Parish Church and subsequently learned piano and trumpet.
He was a member of his local youth and community orchestras as both player and conductor. He began composing at age 13 and at 17 entered the Royal College of Music to study composing and conducting. In his second year he was awarded all five composition prizes, most notably the Cobbett Prize for his first string quartet performed by the then newly formed Chilingirian Quartet. His principal professors were Humphrey Searle and Alexander Goehr.
He became Resident Composer at the Royal College of Art Film School and began composing for film and television at age 19, while still a student. His first film, for the Shell Film Unit was nominated for a BAFTA (British Film Academy) award. It was at this time that he composed and co-produced the music theatre work "Why Tears, Achilles?" based on the translations from the Iliad by Christopher Logue. This was subsequently to become a 3 hour radio drama programme for the BBC and revived as "War Music" for the Old Vic Theatre Company. The production toured internationally.
Upon leaving the RCM he worked mainly in film and television as a composer as well as co-producing theatre and film productions. Arranging and record producing for major label record companies soon followed and he was co-creator of British Academy Award winning TV series "Rock Follies". He began working with documentary film director Geoffrey Jones in this period, their work garnering many prestigious international awards. The British Film Institute have recently issued a DVD of Jones' work. He was then to work as composer and music director for the Prospect Theatre Company which developed into the Old Vic Theatre Company. Productions toured many International Festivals, including Edinburgh, Istanbul and Perth, Australia as well as London's West End.
This early period saw the completion of many chamber works. A 'one man show' of these works was given at the Wigmore Hall sponsored by SONY and performed by the Medici Quartet and Peter Donohoe with the Alexander Ensemble conducted by Lionel Friend. Other works at this time included "Airs and Graces" commissioned by the 'Equale Brass' with Dorothy Tutin and Christopher Logue as narrators, Ancient Chinese Lyrics performed by the English Chamber Orchestra with Teresa Cahill, soprano, and the song cycle Cu Chullain! sung by baritone Andrew Golder. The last two works were given their first performances at the Queen Elizabeth Hall and the Purcell Room at London's South Bank arts complex.
Donald purchased The Studio, Bedham near Fittleworth, West Sussex and made the move from London to the English countryside. The main room of the house had been moved from Brinkwells, a nearby cottage and two wings were added. It was the studio in which Edward Elgar worked on his last major compositions, including his cello concerto.
EMI Film Division's "The Season's" project, director Geoffrey Jones, saw the beginning of his relationship with the English Chamber Orchestra as conductor. In 1984 he also conducted them for the 50th Anniversary concert of Elgar's death at Westminster Abbey in the presence of Her Majesty Queen Elizabeth, the Queen Mother and, shortly afterward Yehudi Menuhin and the ECO commissioned Donald to arrange four of Elgar's works for a tour of America. These were subsequently recorded by Arabesque Records in New York.
Other work at this time included the orchestration of "I Never Saw Another Butterfly", commissioned and recorded by Jim Litton and the American Boychoir for CD and DVD and the composition and recording of "A Christmas Symphony" with Jessye Norman, the American Boychoir and the New York Choral Society conducted by Robert DeCourmier. Donald was asked to conduct a series of baroque works with the ECO for BMG Classics which included his arrangement of Marais' "The Bells of St. Genevieve". This CD was to become his first success in the Billboard Classical category, reaching number 5 in the charts.
As a result of the chart success of the RCA Victor recording of the Bells of St. Genevieve, Donald was asked to produce, arrange and conduct a series of recordings for RCA parent company BMG Classics. Working from the New York office and recording mainly in London. Artists and CD's included The King's Singers, Canadian Brass, Angel Romero, The English Chamber Orchestra, World Anthems, Baroque Brass and tracks for many compilation albums.
Delos records in Los Angeles then engaged him for a series of recordings which led to the major chart successes of the Disney Classics CD's 'Heigh Ho! Mozart ' and 'Bibbidi, Bobbidi, Bach' as well as the Peter Pan music disc, Music of Jerome Kern and several other recordings. These and many other recordings are still available at amazon.com and record stores worldwide.
In 1996 Donald was invited to become Artistic Director and Conductor of the Illinois Chamber Symphony Orchestra which he accepted and made the move to Chicago. As well as arranging and composing works for the Chamber Symphony, several new compositions and arrangements were commissioned by the Chicago Symphony Orchestra and Chorus. Six film scores were also composed during this period for Berwick Universal Pictures, directed by Paul Yule along with the BBC/Warner's Classics production of 'The People's Passion' starring Jessye Norman, Sir Thomas Allen and Ron Moody.
In 2006 the TV film, DVD and CD of "Stand Ye Steady" with the choir of the United States Military Academy at West Point was released and commissions for a new harp concerto, a violin concerto, the choral/orchestral work "Songs of the World" and several chamber and choral works followed.
In 2010 Donald was awarded the Illinois American Choral Director's Association prize for his work "In Moonlight" for men's chorus. Record production with vocal group Chanticleer was begun along with appointment as Director of Music at Christ United Methodist Church Rockford, Illinois.
Donald continues to work as composer, conductor and recording producer and is currently at work on several chamber pieces and more record production projects.