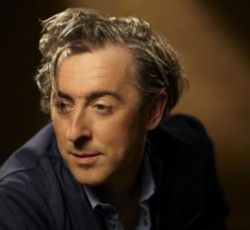 Biography:
Alan Cumming is beyond eclectic.
Right now he is the political maverick Eli Gold on CBS's The Good Wife, for which he has received Emmy, SAG and Satellite award nominations, but over the last couple of years he has also: played all the parts in Macbeth at both the National Theater of Scotland and Lincoln Center in NY; sung at venues around the globe including the Sydney Opera House; appeared in films opposite Helen Mirren, Cher, James Franco and Christina Aguilera; voiced a Smurf, a goat and Hitler; entered upside down and suspended by his ankles in a Greek tragedy, and sparred with Dianne Wiest in Chekhov; directed and starred in a musical condom commercial; written articles for Newsweek, Harpers Bazaar and Out; recorded an award-winning album of songs and a dance remix; made three documentaries; released a second fragrance (naturally
named Second Cumming); hosted PBS's Masterpiece Mystery as well as speaking out for LGBT equality and civil rights and going to Buckingham Palace to receive an OBE for all of the above. Oh, and Time magazine also called him one of the most fun people in show business. Duh!
He was an award-winning Hamlet and he had his own talk show. He shot a video portrait with Robert Wilson and recorded a duet with Liza Minnelli. He made films back to back with Stanley Kubrick and the Spice Girls. He wrote a Sunday Times bestselling novel and has an award-winning signature fragrance. He has played Dionysus, the Devil, the Pope and was shot by Herb Ritts for Vanity Fair as Pan. He was a teleporting superhero, a Lee Jeans model and hosted Saturday Night Live. He is an Independent Spirit Award-winning producer and National Board of Review-winning director. He has sung at Carnegie Hall, the Hollywood Bowl, the London Palladium and San Francisco's Castro Theatre. He was named Icon of Scotland. He designed wallpaper. He was the voice of Black Beauty. He isn't nearly done yet.