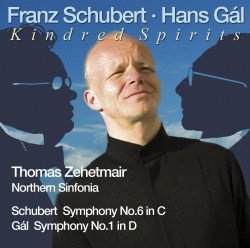 Title:
Hans Gál: Symphony No. 1*, Schubert: Symphony No. 6
Artists:
Thomas Zehetmair
Northern Sinfonia
Summary:
Internationally celebrated conductor Thomas Zehetmair, Music Director of Northern Sinfonia, presents the world-premiere recording of Hans Gál's Symphony No. 1, a bold and approachable orchestral statement, alongside Schubert's Symphony No. 6. The first of two recordings pairing the composers, the release showcases two ends of a great melodic tradition, presenting Gál's music alongside 19th-century symphonic repertoire that represents its roots and core values.
Gál's Symphony No.1 was not in fact his first – an earlier symphony had won the Austrian State prize in 1915, but it was later discarded, as was another. Gál finally considered this work, which won a Columbia Schubert Centenary Prize in 1928,
to be his symphonic debut. The music speaks through its bold and persuasive conception and uninhibited climaxes, reflecting the composer's sense of truly having found his own voice. The writing is virtuosic and the orchestration colorful.
Featuring Northern Sinfonia in their spectacular venue Hall One of The Sage Gateshead, these recordings underscore Zehetmair's hallmark electrifying intensity, precision and vision.
*World premiere recording
Tracklist:
Franz SCHUBERT (1797 – 1828)
Symphony No. 6 in C major, D 589 "Little C major" (32:01)
1. I Adagio – Allegro (9:42)
2. II Andante (5:41)
3. III Scherzo. Presto – Più lento (5:57)<br
4. IV Allegro moderato (10:41)
Hans GÁL (1890 – 1978)
Symphony No. 1 in D major, Op. 30 (29:01)
5. I Idylle (10:54)
6. II Burleske (5:09)
7. III Elegie (7:30)
8. IV Rondo (6:08)
Total time: 61:52
Recorded 18-19 November 2009 (Schubert) and 27-28 September 2010 in Hall One of The Sage Gateshead, England
Produced, engineered and edited by Simon Fox-Gál