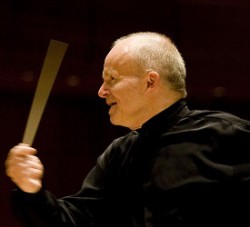 Biography:
Thomas Zehetmair is one of today's outstanding artists. His international conducting career is based on his two positions: as chief conductor of the Northern Sinfonia in England and as Artistic Partner of the Saint Paul Chamber Orchestra, USA. Concert tours with the Northern Sinfonia have taken him to the Hong Kong Festival, to the Netherlands, to Scandinavia and to Germany. This extraordinary artistic collaboration has led to various projects, including the 50th anniversary of the orchestra in 2008/09 when Thomas Zehetmair opened the season with a cycle of all the Beethoven symphonies and brought it to its festive conclusion with a series of concerts entitled "Dreams and Ceremonies" which focused on contemporary compositions. The Northern Sinfonia under Thomas Zehetmair has produced several highly successful recordings: AVIE issued a recording of Brahms's Violin Concerto and Schumann's Symphony no. 4 with Thomas featuring both as soloist as well as conductor (a BBC Music Magazine Choice). AVIE followed this with a CD of Sibelius's Symphony nos. 3 and 6 and Stravinsky's Violin Concerto (Classic FM Magazine, Disc of the Month). Most recently, NMC produced the CD "Unknown Britten" (Gramophone Editor's Choice).
Since the beginning of the 2010/11 season Thomas Zehetmair has held a leading position as an Artistic Partner of the Saint Paul Chamber Orchestra. As a guest conductor, he has worked with orchestras such as the London Philharmonic, Bavarian Radio Symphony Orchestra, Ensemble Orchestral de Paris, Camerata Salzburg, Munich Chamber Orchestra, Hungarian National Orchestra, Helsinki Radio Symphony Orchestra, Bamberg Symphony Orchestra, National Philharmonic Orchestra Warsaw, Hallé Orchestra Manchester and the Rotterdam Philharmonic Orchestra.
Thomas Zehetmair received an honorary diploma as part of the German record industry awards (Preise der Deutschen Schallplattenkritik ) as well as the "Karl Böhm" interpreter's medal awarded by the Austrian state Styria. Thomas Zehetmair holds an honorary doctorate at the Hochschule für Musik "Franz Liszt" in Weimar.