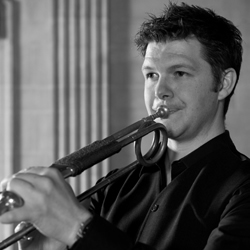 Biography:
Simon began his musical career in the Salvation Army. He was awarded a scholarship to the Royal College of Music where he studied modern and baroque trumpet with David Mason, Andrew Crowley, Malcolm Smith and Mark Bennett.
Simon has since established himself as a freelance musician on both the modern and baroque trumpet working with many of the world's leading orchestras including the Philharmonia, Royal Opera House, Halle, BBC Phillharmonic, Rotterdam Phillharmonic, Israeli Camerata, Manchester Camerata, English Chamber Orchestra and the Norwegian Chamber Orchestra. Simon has also played baroque trumpet with English Baroque Soloists, English Concert, Dunedin Consort, St. James' Baroque, Les Talens Lyriques and as principal and soloist with the Orchestra of the Age of Enlightenment, The Academy of Ancient Music, Les Arts Florissants, The New London Consort, Gabrieli Consort and Ex Cathedra.
Bach's Second Brandenburg Concerto has featured heavily in Simon's career: he has performed this work many times on both modern and Baroque trumpets, most notably, a live BBC Radio 3 broadcast from Brixton Prison as part of their 'Bach at Christmas' project. He has also performed the Haydn, Leopold Mozart, Michael Haydn concertos and given over 150 performances of the Telemann Concerto in D, which he has also recorded. In addition to his work with Alberti Brass, Simon has worked with chamber ensembles such as London Brass and Hallé Brass.
Simon regularly performs in the West End and has also appeared on the big screen in Bright Young Things, De Lovely, The Duchess and Young Victoria, as well as on TV in Top of the Pops, Songs of Praise and Ant and Dec's Push the Button. He has particularly enjoyed a recent European tour with Peter Gabriel and has performed on the recordings of Peter's latest albums, only adding to Simon's diverse and rounded career.