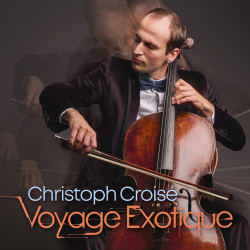 Summary:
"Channelling a range of stylistic inspirations, from jazz and blues to bossa nova and improv, this first album of original works by Croisé showcases his impressive technique and generous tone in a range of vehicles with equally talented collaborators." – BBC Music magazine
"Croisé is adept at writing lines that show off his abilities on the cello, but he is also an alert chamber player who interacts well with the other musicians in the chamber pieces. A genuinely fresh album". – AllMusic.com
"… there is no doubt: he can compose, he has ideas and, above all, he has no fear of contact with other musical styles, such as jazz or bossa nova, from which he draws inspiration … Excellent interpretations with Christoph Croisé on cello guarantee a high musical level". – Pizzicato

Christoph Croisé channels his prowess as a cellist – "he's got it all – technical chops, impeccable musicianship and imaginative daring" (Gramophone) – into compositional ingenuity on the first album devoted entirely to his own works.
Christoph draws inspiration from a variety of musical role models, including contemporary and centuries past, paying homage to the time-honoured evolution of classical music that has melded current conventions with popular styles. Traditional forms, such as sonata and concerto, are imbued with jazz, blues, bossa nova and improv to create, as Christoph puts it, "a musical and cultural melting pot."
Christoph's compositional urge was spurred by the pandemic and lockdown. The four works on Voyage Exotique were written between 2020 and 2022. He also cites current world events as a motivating influence. His first cello concerto, imbued with high-wire virtuosity that makes full use of the cello's – and Christoph's – capabilities, opens a programme that also includes an imaginary intergalactic journey in the form of a clarinet trio, and a sonata for cello and piano that is by turns pensive, agitated and longing, yet ultimately hopeful. The title track, a "Grand duo" for two cellos is, in the truest sense of the word, an "exotic journey" through foreign sound cultures and myriad cello effects.
Tracklist:
CHRISTOPH CROISÉ (b. 1993)
Cello Concerto No. 1 Op. 6 for cello & string orchestra with percussion 
1. Allegro 5.18
2. Adagio – Cadenza 7.57
3. 'Berlin Bass': Allegro 5.18
4. 'THIS IS IT': Presto – Allegro 5.29
Voyage Exotique Op. 2 Grand Duo for 2 cellos 
5. Blu Rhino Track 4.47
6. A Train to Ugudu Yelu or Lonely Whales Trip 4.52
7. Tarantula Spiritualis 3.23
8. Black Mamba Island 5.39
Clarinet Trio Op. 4 for clarinet, cello & piano
9. Gathering of the Intergalactic 5.08
10. Flight through the Milky Way 9.53
11. Mercurium (Bossa) 3.24
Cello Sonata No. 1 Op. 9 for cello & piano
12. The Escape 4.37
13. Lullaby for Arthur 4.26
14. Moderato – Allegro 5.00
15. Basso Ostinato (Dance of the Dead Soldiers) 5.17
Christoph Croisé, composer, cello
Kammerorchester der Niederlenzer Musiktage (1–4)
Annette Jakovcic, cello (5–8)
Damien Bachmann, clarinet (9–11)
Oxana Shevchenko, piano (9–15) 
Recording: 28 April (1–4) & 28 November (5–8) 2022, Reformierte Kirche Niederlenz, Switzerland;
16 September 2022, Alte Kirche Boswil, Switzerland (9–15)
Recording Producer, Engineer & Editor: Karsten Zimmermann
These works by composer Christoph Croisé (SUISA) are self-published, with scores available on demand through christophcroise.ch/kompositionen