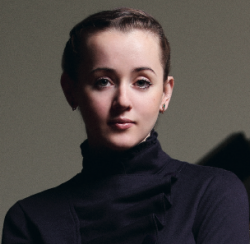 Biography:
Oxana Shevchenko is an internationally recognised pianist known for her outstanding artistry, sensitivity and versatility. She has performed with orchestras around the world, including the BBC Scottish Symphony Orchestra, the Sydney Symphony Orchestra and the Orchestra dell'Arena di Verona. In addition to her success as a soloist, she is also in demand as a chamber musician.
Shevchenko was born in Almaty, Kazakhstan and started her music studies at age seven with Valentina Tartyshnaya. Later, she completed her bachelor's degree with Elena Kuznetsova and her master's degree with Dmitri Alexeev at the Royal College of Music, as well as with Jean-François Antonioli at the Haute École de Musique de Lausanne. She also studied at the Accademia di Santa Cecilia with Benedetto Lupo, further perfecting her piano skills.
Shevchenko has received numerous accolades for her performances, including First Prize at the Scottish International Piano Competition, the Verona International Piano Competition, the Luciano Luciani International Piano Competition and the Orbetello International Piano Competition. She has also won numerous prizes at international competitions including the Sydney International Piano Competition, the Sendai International Music Competition and the Ferruccio Busoni International Piano Competition.
Shevchenko made her Western debut in 2004 with the Lithuanian National Symphony Orchestra and has since given performances at prestigious venues such as the Sydney Opera House and London's Royal Festival Hall and Wigmore Hall. She has also appeared at festivals such as the Lucerne Festival, the Palermo Classica Festival and the Absolute Classics Festival.
With a flawless technique, refined musicality, and exceptional stage presence, Shevchenko consistently delivers powerful and convincing musical interpretations. Her debut recording, released in 2011, includes works by Shostakovich, Mozart, Liszt
and Ravel, and has been praised by critics for its exciting and engaging performances.
Shevchenko's exceptional talent and dedication to her craft have earned her a reputation as one of the finest pianists of her generation. She continues to captivate audiences with her dynamic and expressive performances, bringing a fresh and unique perspective to the classical repertoire.