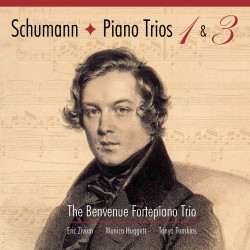 Artists:
The Benvenue Fortepiano Trio
Monica Huggett, violin
Tanya Tomkins, cello
Eric Zivian, fortepiano
Summary:
The Benvenue Fortepiano Trio bowed on Avie with an ear-opening account of Mendelssohn's Piano Trios. Their follow-up is another rarity, Schumann's Piano Trios performed on period instruments. Anchored by the enterprising violinist Monica Huggett, whose releases on Avie have made the Top Five of the Billboard Classical Chart and earned a Grammy nomination, the Benvenues historically-informed style lend a unique clarity to these early romantic masterpieces. This is the first of two releases by The Benvenue Fortepiano Trio surveying Schumann's works for the genre.
Tracklist:
Robert SCHUMANN (1810 – 1856)
Trio No. 3 in G minor, Op. 110 (26:31)
1. I Bewegt, doch nicht zu rasch – Rascher (9:44)
2. II Ziemlich langsam – Etwas bewegter – Schneller – Erstes Tempo (5:25)
3. III Rasch (4:05)
4. IV Kräftig, mit Humor (7:17)
Trio No. 1 in D minor, Op. 63 (31:17)
5. I Mit Energie und Leidenschaft (12:17)
6. II Lebhaft, doch nicht zu rasch (5:01)
7. III Langsam, mit inniger Empfindung (5:56)
8. IV Mit Feuer (8:03)
Total time: 58:25
Recorded 21 – 23 December 2009 at Green Music Center, Rohnert Park, California
Produced, Engineered and Edited by David v.R. Bowles