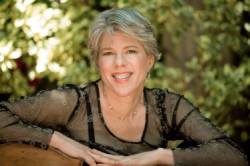 Biography:
Tanya Tomkins received her Soloist Diploma from The Hague Conservatory in The Netherlands as a student of Anner Bijlsma. It was in Holland, where she lived for fourteen years, that she became interested in early instruments. She founded the Trio d'Amsterdam, which toured extensively throughout Europe and made their New York debut at the Frick Collection. The trio has recorded for the Koch label.
Ms. Tomkins is principal cello of the Portland Baroque Orchestra and a member of the Philharmonia Baroque Orchestra in San Francisco, with whom she appears frequently as soloist. She has been featured as soloist with the American Bach Soloists, and has appeared as soloist with the Mozart Festival Orchestra in San Luis Obispo. With pianist and fortepianist, Eric Zivian, she performs regularly in recitals (ZivianTomkinsDuo.org) and has recorded a CD of the Beethoven Sonatas.
In 2001 Ms. Tomkins was the winner of the Bodky Competition for Early Music Soloists in Boston. Ms Tomkins is also active as a chamber musician on the modern cello. She has appeared on the "Great Performers Series" at Lincoln Center in New York, the "Meet the Virtuoso Series" at the 92nd St Y and on San Franciso Performances, all to critical acclaim. She has recorded the quartets of Debussy and Ravel for Vanguard Classics with the Euridice Quartet (with members of the Concertgebouw Orchestra) and with the SoLaRe String Trio she recorded an all Schubert CD for the Ottavo label. Ms. Tomkins appears regularly at the Moab Music Festival. She has recently given solo recitals which include both the modern and Baroque cellos, performing the Suites of Bach, Britten and Zivian. Her finely honed interpretative skills have made her widely sought after as a chamber musician and recitalist in a variety of styles.