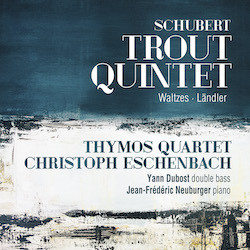 Title:
Schubert: "Trout" Quintet, Waltzes, Ländler
Artists:
Thymos Quartet
Christoph Eschenbach, piano
Yann Dubost, double bass
Jean-Frédéric Neuburger, piano
Olivier Dejours, transcriptions
Price:
£12.49 Pre-order now! Reserve your copy and we'll deliver when available.
Summary:
Christoph Eschenbach reunites with the Paris-based Thymos Quartet in Schubert's triumphant chamber work, the "Trout" Quintet, a recording that celebrates the 80th birthday of the great pianist / conductor. From babbling brook and leaping fish, this present-day Schubertiade relocates to a 19th century Viennese salon, with a selection of the composer's waltzes in unique chamber music arrangements and concludes with selected Ländler, performed by pianist Jean-Frédéric Neuburger, ranging in mood from iridescent to intimate.
Tracklist:
Franz Schubert (1797 – 1828)
Piano Quintet in A, D. 667 "The Trout" *
1. Allegro Vivace (13:47)
2. Andante (7:45)
3. Scherzo (4:20)
4. Thema mit Variationen (7:59)
5. Allegro giusto (6:56)
6. Waltzes, D. 146 (arr. Olivier Dejours) (7:16)
7. Ländler, D. 790 (excerpts) (6:28) **
Total time: 54:33
Thymos Quartet
Christoph Eschenbach, piano *
Yann Dubost, double bass *
Jean-Frédéric Neuburger, piano **
Recorded: 8–9 May 2016, Salle de répétition SR1 (1–5) & 27–29 September 2019, Amphithéâtre – Cité de la musique (6–7), Philharmonie de Paris, France
Recording producer & engineer: François Eckert · Assistant (6–7): Cyprien Matheux
Editing: Mathilde Genas, Julien Podolak, François Eckert
Mixing & mastering: François Eckert