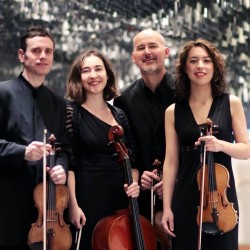 Biography:
According to the philosophers of Ancient Greece, thymos means the breathing of the soul, the alliance between body and mind. Inspired by the spirit of this concept, the musicians of the Thymos Quartet created their ensemble in 2003 to share intense moments of music with wide audiences. The Quartet arose from the meeting of four musicians who won Distinction Prizes at both the Paris and Lyon music conservatories. From the outset they have aspired to a large repertoire embracing classical and contemporary music.
The Quartet has performed in renowned festivals, such as Amboise, Prades and Montpellier, and at various concert halls including the auditoriums of the Musée d'Orsay and of the Sorbonne, Théâtre Mogador, Salle Favart and Salle Pleyel, as well as in the French overseas departments and in several European cities. In August 2005, they were invited to play at the Ravinia Festival (Chicago) with pianist Christoph Eschenbach. The Thymos Quartet appeared in August of 2007 and 2010 at the International String Quartet Festival of Luberon (South of France). In May 2010 they played in the Grand- Théâtre de Bordeaux during an international chamber music competition and at the 'Legendary Violins' Festival at Beaulieu-sur-Mer on the French Riviera. The 2011/12 season saw the Thymos Quartet perform works by Steve Reich with Karine Saporta's dance company at the Cité de la Musique. They have also been guests at the Kennedy Center (Washington DC), the Salle Gaveau (Paris) for a Schubertiade with Christoph Eschenbach, the Festival Fougères Musicales (2010–18) and the Château de Maisons-Laffitte.
The Thymos Quartet has toured Brazil (2014), the USA (2016) and China (2017). In 2017, along with French actor Daniel Mesguich as narrator, they premiered the work Virginia Woolf and Beethoven devised by Professor Anne-Gaëlle Saliot (Duke University). The Thymos Quartet has performed in the International String Quartet Biennale at the Cité de la Musique in January of 2012, 2016, 2018 and 2020.