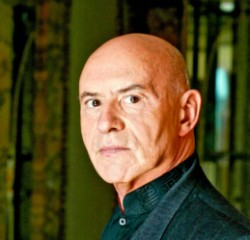 Biography:
Christoph Eschenbach is a phenomenon amongst the top league of international conductors. Universally acclaimed as both a conductor and pianist, he belongs firmly to the German intellectual line of tradition, yet he combines this with a rare emotional intensity, producing performances revered by concert-goers worldwide. Renowned for the breadth of his repertoire and the depth of his interpretations, he has held directorships with many leading orchestras and gained the highest musical honours.
In exploring the conditions that led to the emergence of such a charismatic talent, we can look to his early years – born at the heart of a tempestuous, war-torn Europe in 1940, his early childhood was scarred by a succession of personal tragedies. It can truly be said that music was his saviour, and his life began to change when he learned the piano. Now, at the age of 80, his keen artistic curiosity is undiminished, and he still thoroughly enjoys working with the finest international orchestras. He is also well-known as a tireless supporter of young talent – this is his greatest passion, and he values his contribution to mentoring up-and-coming talent over and above his own distinguished career. Moved by the energy and the drive of young people – "Those one-hundred-percent artists", as he calls them – he has a personal mission to pass the torch to the next generation. His discoveries to date include the pianist Lang Lang, the violinist Julia Fischer and the cellists Leonard Elschenbroich and Daniel Müller-Schott.
Christoph Eschenbach continues to explore new horizons and as of September 2019 is the new Musical Director of the
Konzerthausorchester, Berlin.