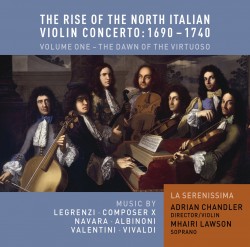 Title:
The Rise of the North Italian Violin Concerto Volume 1: The Dawn of the Virtuoso
Artists:
Mhairi Lawson, soprano
Adrian Chandler, violin and director
La Serenissima
Summary:
It's the late 1600s in Northern Italy. The great violin makers of Brescia and Cremona conspire with composers to satisfy a growing demand for instrumental music which reflected and in turn promoted increased technical capability of their instruments and proficiency among players. The resulting repertoire is a body of rich and virtuostic sinfonia, concerti and vocal works that influenced a generation of composers throughout continental Europe. There can be no greater modern day proponent of this output than Adrian Chandler, whose passion for the works of Vivaldi and his contemporaries shines through these virtuoso works by Albinoni, Legrenzi, Navara, Valenti, one Composer X and the Red Priest himself. Directing La Serenissima, the ensemble he founded in 1994, this is Adrian's fourth recording for Avie and the first of three charting the development of the north Italian violin concerto between the years 1690 and 1740.
Gramophone Editor's Choice
Tracklist:
Francesco NAVARA (fl. 1695 – 1699)
Sinfonia/Sonata à 5 in C (5:37)
1. Sostenuto con spirito– Adagio–[Tempo primo]–Adagio–Vivace (1:23)
2. [Allegro] (1:42)
3. [Adagio] (1:09)
4. Allegro (1:21)
Composer X (ca. 1695)
Laudate pueri Dominum à voce sola et 5 strumenti, RV Anh 30 (19:21)
5. Sinfonia: Adagio–Presto–Adagio–Allegro–Adagio (1:15)
6. Laudate pueri Dominum: Allegro (2:18)
7. Sit nomen Domini: [Allegro] (2:14)
8. A solis ortu: [Allegro] (1:14)
9. Exclesus super omnes: Allegro–Adagio–Allegro–Adagio–Allegro (2:13)
10. Quis sicut Dominus: [Allegro] (1:43)
11. Suscitans a terra: Presto–Adagio–Presto–Adagio–Allegro (2:06)
12. Ut collocet eum: [Allegro] (1:52)
13. Gloria Patri: [Adagio]–[Andante]–[Adagio]–[Andante] (1:38)
14. Sicut erat in principio: [Allegro] (2:43)
Giovanni LEGRENZI (1626 – 1690)
3 Balletti e Correnti à 5 from Op 16 (7:36)
15. Balletto II in g: Presto (0:42)
16. Corrente II in g: [Giga] (1:23)
17. Balletto IV in e: [Allemanda] (1:52)
18. Corrente IV in e (1:06)
19. Balletto VI in F (1:57)
20. Corrente VI in F: [Rondo alla Forlano] (0:34)
Francesco NAVARA
Sinfonia/Sonata à 5 in a (5:43)
21. Sostenuto (0:53)
22. Allegro assai (2:17)
23. [Adagio] (0:43)
24. Allegro (1:50)
Tomaso ALBINONI (1671 – 1751)
Concerto IV à 6 in G, Op 2/8 (5:24)
25. Allegro (1:53)
26. Adagio (1:02)
27. Allegro (1:29)
Giuseppe VALENTINI (ca. 1680 – ca. 1759)
Concerto XI à 6 con quattro violini obligati in a, Op 7 (17:32)
28. Largo (2:37)
29. Allegro (5:26)
30. Grave – Allegro – Grave (3:35)
31. Presto (1:41)
32. Adagio (2:14)
33. Allegro assai (1:59)
Antonio VIVALDI (1678 – 1741)
Concerto III con violino solo obligato in G, Op 3, RV 310 (6:46)
34. Allegro (2:11)
35. Largo (2:17)
36. Allegro (2:18)
Antonio VIVALDI
Concerto X con quattro violini e violoncello obligato, Op 3, RV 580 (9:00)
37. Allegro (3:28)
38. Largo – Larghetto – Adagio – Largo (2:18)
39. Allegro (3:14)
Total time: 77:51
Recorded 27 February – 1 March 2006 (tracks 1 – 27 and 34 – 36) at the Church of St Mary the Virgin, Salehurst, East Sussex, England, and 25 June 2006 (tracks 28 – 33, 37 –39) at Phoenix Sound, Pinewood Studios
Producer & Recording Engineer: Simon Fox-Gál