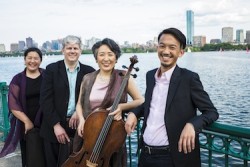 Biography:
Recently celebrating its 25th anniversary, each visionary performance of the award-winning Borromeo String Quartet strengthens its reputation as one of the most important ensembles of our time, "simply the best" (Boston Globe).
The BSQ strives to redefine the classical music landscape through innovation, including its pioneering use of technology as the first string quartet to utilize laptop computers in concert. This allows the artists to perform solely from 4-part scores and composers' manuscripts, better revealing the creative process of the composer – an experience which the ensemble brings to students and audiences around the world. The Borromeo became the first classical ensemble to make its own live concert recordings and videos, distributing them to audiences through its Living Archive, a music learning web portal for which a new version will soon be released.
Borromeo has presented more than ten string quartet cycles by beloved masters, and enjoyed collaborations with major composers of the last two centuries. The quartet has been ensemble-in-residence at the New England Conservatory, Isabella Stewart Gardner Museum, and Taos School of Music for twenty-five years; and has worked extensively with the Library of Congress and the Chamber Music Society of Lincoln Center.
Recent and upcoming seasons include the premiere of a new work by Aaron Jay Kernis; a new multi-media collaboration with visual artist, puppeteer, and director Doug Fitch celebrating Beethoven's 250th; performances in Switzerland, Japan, Korea and China; the Bartók Cycle in Boston, San Francisco and at the Library of Congress; and appearances at Carnegie Hall and Shriver Hall, which have co-commissioned a new work by Sebastian Currier for the BSQ, the Schubert Club in Minneapolis, and the Hong Kong International Chamber Music Festival.
The Borromeo Quartet has received numerous awards throughout its illustrious career, including Lincoln Center's Avery Fisher Career Grant and Martin E. Segal Award, and Chamber Music America's Cleveland Quartet Award. It was a recipient of the Young Concert Artists International Auditions and top prizes at the International String Quartet Competition in Evian, France.