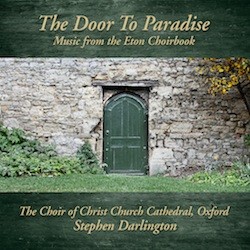 Artists:
The Choir of Christ Church Cathedral, Oxford
Stephen Darlington, director
Price:
£34.49 (5CD Deluxe Box Set)
Summary:
The Door to Paradise celebrates Stephen Darlington's 30+-year legacy as Director of the distinguished Choir of Christ Church Cathedral, Oxford. This unprecedented contribution to the choral discography is the most comprehensive collection to date of music from the Eton Choirbook. The Door to Paradise brings together all five volumes of the Choir's survey in a newly-packaged, beautifully presented deluxe box set with a newly-penned overview of the project by Darlington. This extraordinary collection of English sacred music from the early Renaissance reveals a striking diversity and range of stylistic structures, harmony, sonority, ornamentation and improvisation, and brings to light two world premiere recordings – Walter Lambe's Gaude flore virginali and John Browne's second setting of the Salve regina. The collection's title derives from a dual meaning: the "door to paradise" is the English translation of a line from Browne's O regina mundi clara, while the cover image features the "Alice Door" between the Deanery and Cathedral Gardens of Christ Church, Oxford, featured in Lewis Carroll's Alice's Adventures in Wonderland.
Tracklist:
volume 1
More Divine Than Human
John Fawkyner (fl late 15th century)
1. Gaude rosa sine spina (16:35)
William Cornysh (d c 1502)
2. Salve regina (15:42)
Walter Lambe (b 1450–51, d after Michaelmas 1504)
3. Magnificat (12:58)
Richard Davy (c 1465 – 1535)
4. In honore summe matris (17:42)
John Browne (fl c 1480–1505)
5. Stabat mater (15:16)
Total time: 78:55
volume 2
Choirs of Angels
John Browne (fl c 1480–1505)
1. O Maria salvatoris mater a 8 (15:50)
William Cornysh (d 1502)
2. Ave Maria mater Dei a 4 (4:07)
Richard Davy (c 1465 – c 1507)
3. Salve Jesu mater vera a 5 (16:49)
Walter Lambe (b ?1450–51, d after Michaelmas 1504)
4. O Maria plena gracia a 6 (20:52)
Robert Wylkynson (b c 1475–80, d 1515 or later)
5. Salve regina a 9 (16:22)
Total time: 74:05
volume 3
Courts of Heaven
John Hampton (1484 – 1521)
1. Salve regina (15:37)
Edmund Turges (1469 – 1508?)
2. Gaude flore virginali (13:43)
John Fawkyner (fl late 15th century)
3. Gaude virgo salutata (18:49)
John Browne (fl c 1480–1505)
4. O mater venerabilis (14:18)
Robert Wylkynson (b c 1475–80, d 1515 or later)
5. Salve regina (13:19)
Total time: 75:45
volume 4
The Sun Most Radiant
John Browne (fl c 1480–1505)
1. Salve regina I a 5 (15:01)
2. Salve regina II a 5 * (18:47)
William Horwood (c 1430 – 1484)
3. Gaude flore virginali a 5 (14:56)
William Stratford (fl c15th –c 16th centuries)
4. Magnificat a 4 (19:54)
* world-premiere recording
Total time: 68:42
volume 5
The Gate of Glory
Hugo Kellyk (fl. late 15th century)
1. Gaude flore virginali a 7 (19:10)
John Browne (fl. c. 1490 – 1500)
2. O regina mundi clara a 6 (15:58)
Robert Fayrfax (1464 – 1521)
3. Magnificat 'Regali' a 5 (18:30)
Walter Lambe (?1450/1 – after Michaelmas 1504)
4. Gaude flore virginali a 4 (11:20) *
Robert Hacomplaynt (1455/6 – 1528) (14.26)
5. Salve regina a 5
* world-premiere recording
Total time: 79.26