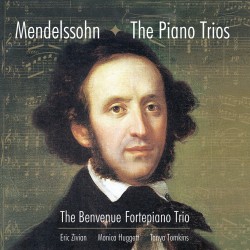 Artists:
The Benvenue Fortepiano Trio
Monica Huggett, violin
Tanya Tomkins, cello
Eric Zivian, fortepiano
performed on period instruments
Summary:
The 200th anniversary of Felix Mendelssohn's birth in 2009 raised the popularity of his music to new heights. This new recording of his beloved Piano Trios is a rarity, performed on period instruments. The Benvenue Fortepiano Trio is lead by the enterprising violinist Monica Huggett, whose numerous recordings for Avie have consistently resulted in critical acclaim and awards. Monica brings a special touch to every recording she makes, whether as a leader, soloist or collaborator. Her partners here are two of America's foremost period instrument practitioners, cellist Tanya Tomkins (making her second appearance on Avie) and Eric Zivian playing on an 1841 Viennese fortepiano which lends a unique crystalline sound to these early romantic masterpieces.
Tracklist:
Felix MENDELSSOHN (1809 – 1847)
Trio in C minor, Op. 66 (30:28)
1. I Allegro energico e con fuoco (11:13)
2. II Andante espressivo (7:00)
3. III Scherzo – Molto allegro quasi presto (3:41)
4. IV Finale – Allegro appassionato (8:32)
Trio in D minor, Op. 49 (29:15)
5. I Molto Allegro agatato (9:44)
6. II Andante con moto tranquillo (6:26)
7. III Scherzo – Leggiero e vivace (3:55)
8. IV Finale – Allegro assai appassionato (9:10)
Total time: 59:43
Recorded 10-12 March 2009 at Fantasy Studios (Studio A), Berkeley, California
Produced, Engineered and Edited by David v.R. Bowles