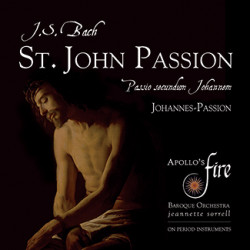 Artists:
Jeannette Sorrell
Apollo's Fire
Nicholas Phan, tenor – Evangelist
Jesse Blumberg, baritone – Jesus
Jeffrey Strauss, baritone – Pilate
Amanda Forsythe, soprano
Terry Wey, countertenor
Christian Immler, baritone
Apollo's Singers
Summary:
This magnificent recording of J. S. Bach's groundbreaking masterpiece, the St. John Passion, is the result of Jeannette Sorrell's visionary concept of a dramatic production which was presented in seven acclaimed performances in Cleveland and New York City in March 2016. Leading her Cleveland-based baroque orchestra Apollo's Fire, the Apollo's Singers and a stellar cast of soloists including tenor Nicholas Phan as the Evangelist, baritone Jesse Blumberg as Jesus and baritone Jeffrey Strauss as Pilate, Sorrell's vision brings immediacy and clarity to Bach's dramatic setting of the Passion story according to the gospel of St. John. Released in time for Easter, the deluxe package includes an extensive and illumiating booklet that features memorable action photos from the production. Videos are available at www.apollosfire.org/media/bach-st-john-passion.
Tracklist:
J. S. Bach (1685 – 1750) St. John Passion, BWV 245
CD 1
1. I. Chorus: Herr, unser Herrscher (8:48)
2. II. Recitative: Jesus ging mit seinen Jüngern – Jesum von Nazareth! – Jesus sprach zu ihnen – Jesum von Nazareth – Jesus antwortete (2:05)
3. III. Chorale: O große Lieb, o Lieb ohn' all Maße (0:51)
4. IV. Recitative: Auf daß Wort erfüllet würde, welches er sagte (1:00)
5. V. Chorale: Dein Will gescheh, Herr Gott, zugleich (0:59)
6. VI. Recitative: Die Schar aber und der Oberhauptmann (0:45)
7. VII. Aria: Von den Stricken meiner Sünden (4:41)
8. VIII. Recitative: Simon Peter aber folgete Jesu nach (0:10)
9. IX. Aria: Ich folge dir gleichfalls (3:29)
10. X. Recitative: Der selbiger Jünger war dem Hohenpriester bekannt (2:39)
11. XI. Chorale: Wer hat dich so geschlagen (1:39)
12. XII. Recitative: Und Hannas sandte ihn gebunden – Bist du nicht seiner Jünger einer? – Er leugnete aber und sprach (2:07)
13. XIII. Aria: Ach, mein Sinn (2:29)
14. XIV. Chorale: Peter, der nicht denkt zurück (1:18)
CD 2
1. XV. Chorale: Christus, der uns selig macht (1:18)
2. XVI. Recitative: Da fürheten sie Jesum von Kaiphas – Wäre dieser nicht ein Übeltäter – Da sprach Pilatus – Wir dürfen niemand töten – Auf daß erfüllet würde (4:00)
3. XVII. Chorale: Ach großer König, groß zu allen Zeiten (1:29)
4. XVIII. Recitative: Da sprach Pilatus zu ihm – Nicht diesen, sondern Barrabam! – Barrabam aber war ein Mörder (1:49)
5. XVIX. Arioso: Betrachte, meine Seel (2:12)
6. XX. Aria: Erwäge, wie sein blutgefärber Rücken (7:30)
7. XXI. Recitative: Und die Kriegsknechte flochten eine Krone – Sei gegrüßet, lieber Jüdenkönig! – Und gaben ihm Backenstreiche – Kreuzige! – Pilatus sprach – Wir haben ein Gesetz – Da Pilatus das Wort hörete (5:21)
8. XXII. Chorale: Durch dein Gefängnis, Gottes Sohn (0:53)
9. XXIII. Recitative: Die Jüden aber schrieen – Lässest du diesen los – Da Pilatus das Wort hörete – Weg, weg mit dem – Spricht Pilatus zu ihnen – Wir haben keinen König – Da überantwortete er ihn (3:51)
10. XXIV. Arioso with Chorus: Eilt, ihr angefochtnen Seelen (3:44)
11. XXV. Recitative: Allda kreuzigten sie ihn – Schreibe nicht: der Jüden König – Pilatus antwortet (2:00)
12. XXVI. Chorale: In meines Herzens Grunde (0:59)
13. XXVII. Recitative: Die Kriegsknechte aber – Lasset uns den nicht zerteilen – Auf daß erfüllet würde die Schrift (3:29)
14. XXVII. Chorale: Er nahm alles wohl in acht (1:11)
15. XXIX. Recitative: Und von Stund an nahm sie der Jünger zu Sich (1:18)
16. XXX. Aria: Es ist vollbracht! (5:23)
17. XXXI. Recitative: Und neiget das Haupt und verschied (0:29)
18. XXXII. Aria: Mein teurer Heiland, laß dich fragen (4:17)
19. XXXIII. Recitative: Und siehe da, der Vorhand im Tempel zerriß (0:27)
20. XXXIV. Arioso: Mein Herz, in dem die ganze Welt (0:48)
21. XXXV. Aria: Zerfließe, mein Herze (6:54)
22. XXXVI. Recitative: Die Jüden aber, dieweil es der Rüsstag war (2:01)
23. XXXVII. Chorale: O hilf, Christe, Gottes Sohn (1:13)
24. XXXVII. Recitative: Darnach bat Pilatum Joseph von Arimathia (1:58)
25. XXXIX. Chorus: Ruht wohl, ihr heiligen Gebeine (7:42)
26. XL. Chorale: Ach Herr, laß dein lieb Engelein (2:05)
Recorded March 7-9, 2016
 at St. Paul's Church, Cleveland Heights, Ohio
Recording Producer and Editor: Erica Brenner
Recording and Mix Engineer: Thomas Knab
Additional Mixing and Mastering:
 Paul Blakemore and Erica Brenner