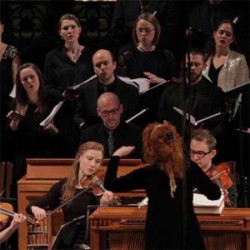 Artist:
Apollo's Singers | choir, chorus
Biography:
Apollo's Singers, like Apollo's Fire Baroque Orchestra, was founded in 1992 by Jeannette Sorrell. Since their debut concert that year (performing the Mozart Requiem), this professional straight-tone chorus has been hailed as "one of the finest choirs of its kind in the country." (The Cleveland Plain Dealer)
Apollo's Singers appear on over five CD recordings with the orchestra, including the Mozart Requiem, Bach's St. John Passion, the Monteverdi Vespers, Monteverdi's L'Orfeo, and Praetorius Christmas Vespers. The chorus has frequently toured with the orchestra, performing in Toronto, Pittsburgh, Toledo, Columbus, and at the Ojai Festival in California.