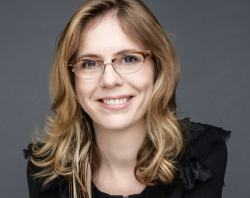 Biography:
London-born Anna Clyne is a Grammy-nominated composer of acoustic and electro-acoustic music. Described as a "composer of uncommon gifts and unusual methods" in a New York Times profile and as "dazzlingly inventive" by Time Out New York, Clyne's work often includes collaborations with cutting-edge choreographers, visual artists, filmmakers, and musicians.
This season features multiple premieres of new works, including Sound and Fury and Overflow with the Scottish Chamber Orchestra, where Clyne serves as Associate Composer. Spring 2020 sees the world premiere of Clyne's COLOR FIELD, an orchestral work inspired by Mark Rothko's paintings, with Marin Alsop and the Baltimore Symphony Orchestra; and Breathing Statues with the Calidore String Quartet. Other recent premieres include her Rumi-inspired cello concerto, DANCE, premiered by Inbal Segev at the 2019 Cabrillo Festival, conducted by Cristian Macelaru; and Three Sisters, her mandolin concerto for Avi Avital and the Kremerata Baltica. In July 2019, Clyne wrote and arranged music from Nico's Marble Index for The Nico Project, a theatrical work presented by the Manchester International Festival.
Clyne served as composer-in-residence for the Chicago Symphony Orchestra, Baltimore Symphony Orchestra, L'Orchestre national d'Île-de-France, and Berkeley Symphony. Clyne currently serves as The Scottish Chamber Orchestra's Associate Composer through the 2020-2021 season, with a series of works commissioned over three years.
Her music is published exclusively by Boosey & Hawkes. boosey.com/clyne