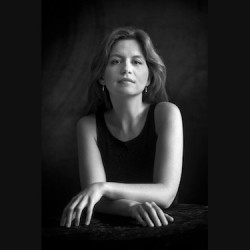 Biography:
Pianist Indrė Petrauskaitė studied at Kaunas (Lithuania) J. Naujalis Music High School with Birutė Kumpikienė. While still at school, she gave solo and chamber music recitals and performed with the Lithuanian National Symphony Orchestra, and in 1993, she won third prize at the Stasys Vainiūnas International Piano Competition (Lithuania). In 1994, together with violinist Vilhelmas Čepinskis, Indrė won first prize in the national chamber music competition.
In 1995, Indrė entered the Lithuanian Academy of Music and Theatre where she studied with Prof. Veronika Vitaitė. During her studies she participated in many international piano competitions with success, earning second prize in the Senigalia International Piano Competition (Italy), third prize in the Ludmila-Knezkova Hussey International Piano Competition (Canada), Grand Prix at 'Alternativa' (Latvia), and third prize at the International M.K. Čiurlionis Piano and Organ Competition (Lithuania).
Indrė finished her graduate and postgraduate studies at the Lithuanian Academy of Music, obtaining BMus and MMus degrees. In 2000, she entered the Royal Academy of Music in London, where she studied with Profs Christopher Elton, Petras Geniušas and Alexander Satz and completed her Postgraduate Diploma and Master of Music Degree with a DipRAM. During her studies, she participated in master classes with such musicians as Esther Yellin, Peter Frankl, Michael Roll, John O'Conor, Ferenc Rados, Robert Levin, Boris Berman, Emanuel Krasovsky, Leif Ove Andsnes and Paul Lewis.
Indrė has performed with the Lithuanian National Symphony Orchestra, Lithuanian State Symphony, Lithuanian Chamber Orchestra, Latvian National Symphony Orchestra, Stuttgart Academy Youth Orchestra, London Soloists Orchestra and Royal Academy of Music Symphony Orchestra under the baton of conductors including Juozas Domarkas, Saulius Sondeckis, Gintaras Rinkevičius, Modestas Pitrėnas, Mirga Gražinytė-Tyla, Helmuth Rilling, Pier Carlo Orizio and others. She has given many solo and chamber music recitals. Indrė has also performed in the Santander Festival (Spain), the Oxford Lieder Festival (UK) and the Pažaislis Festival (Lithuania). Some of her performances in Vilnius were broadcast on Lithuanian Radio. Since 2000 she has collaborated regularly with the Vilnius String Quartet and Kaunas String Quartet. In 2018, Toccata Classics published Indrė's recording of Ravel's solo piano music with an emphasis on something new: a 40-minute concert suite for solo piano of the ballet Daphnis et Chloé arranged by Indrė herself with faithful observance of Ravel's original textures. The CD presents core Ravel piano repertoire as well. Indrė is now based in London, where she combines teaching with performing.