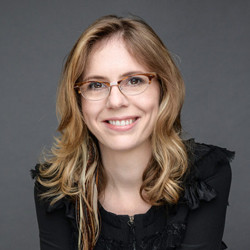 Biography:
London-born Anna Clyne is a GRAMMY-nominated composer of acoustic and electro-acoustic music. Described as a "composer of uncommon gifts and unusual methods" in a New York Times profile and as "fearless" by NPR, Clyne's work often includes collaborations with cutting-edge choreographers, visual artists, filmmakers, and musicians.
Clyne has been commissioned by a wide range of ensembles and institutions, including BBC Radio 3, BBC Scottish Symphony, Britten Sinfonia, Carnegie Hall, Chicago Symphony Orchestra, Houston Ballet, London Sinfonietta, Los Angeles Philharmonic, Seattle Symphony, and the Southbank Centre. Her work has been championed by such world-renowned conductors as Pablo Heras-Casado, Riccardo Muti, Leonard Slatkin, André de Ridder, Esa-Pekka Salonen, Osmo Vänskä, and Marin Alsop, who praised Clyne, stating: "Anna Clyne is someone I look to for great music. It's always emotional and driven by her heart, but skillfully composed."
From 2010–2015, Clyne served as a Mead Composer-in-Residence for the Chicago Symphony Orchestra. Music Director Riccardo Muti lauded Clyne as "an artist who writes from the heart, who defies categorization, and who reaches across all barriers and boundaries. Her compositions are meant to be played by great musicians and listened to by enthusiastic audiences no matter what their background." She has also been in residence with the Baltimore Symphony Orchestra, L'Orchestre national d'Île-de-France, Cabrillo Festival of Contemporary Music, Berkeley Symphony, and National Sawdust. Clyne serves as the mentor composer for the Orchestra of St Luke's DeGaetano Composer Institute. Clyne is currently serving a three-year residency as Associate Composer with the Scottish Chamber Orchestra, through the 2020-2021 season. The residency includes plans for a series of new works commissioned over three years.
Upcoming premieres include Stride, a new work for string orchestra inspired by Beethoven's Sonata Pathétique for the Australian Composers Orchestra, Scottish Chamber Orchestra, Lausanne Orchestra and River Oaks Chamber Orchestra; Color Field a new work inspired by the artwork of Mark Rothko for the Baltimore Symphony Orchestra; Overflow, a new work for wind ensemble inspired by the poetry of Emily Dickinson, for the Scottish Chamber Orchestra; Fractured Time for the Los Angeles-based Kaleidoscope Ensemble; and a cello and string orchestra version of her work Shorthand, inspired by Beethoven's Kreutzer Sonata, Janácek's first String Quartet and Tolstoy's novella The Kreutzer Sonata for the Orlando Symphony.
Other recent premieres include Sound and Fury, performed by the Scottish Chamber Orchestra and Pekka Kuusisto in Edinburgh; Breathing Statues, a new string quartet for the Calidore String Quartet; Shorthand for solo cello and string orchestra, premiered by The Knights at Caramoor in New York; her Rumi-inspired cello concerto, DANCE, premiered with Inbal Segev at the 2019 Cabrillo Festival of Contemporary Music, led by Cristian Măcelaru; Snake & Ladder, a work for saxophone and electronics premiered by Jess Gillam at the 2019 Cheltenham Music Festival; and Restless Oceans with the Taki Concordia Orchestra and Marin Alsop at the World Economic Forum. In July 2019, Clyne wrote and arranged music from Nico's Marble Index for The Nico Project, a theatrical work presented by the Manchester International Festival. Clyne has been commissioned by such renowned organizations as Carnegie Hall, Houston Ballet, Los Angeles Philharmonic, and the Southbank Centre.
Clyne is the recipient of the 2016 Hindemith Prize; a Charles Ives Fellowship from the American Academy of Arts and Letters; awards from Meet the Composer, the American Music Center, the Foundation for Contemporary Arts, and the Jerome Foundation; and prizes from ASCAP and SEAMUS. She was nominated for the 2014 Times Breakthrough Award (UK).
Clyne's music is represented on AVIE Records, Cantaloupe Music, Cedille, MajorWho Media, New Amsterdam, Resound, Tzadik, and VIA labels. This fall sees the release of Clyne's Mythologies, a portrait album featuring the works Masquerade, This Midnight Hour, The Seamstress, Night Ferry, and <<rewind<<, recorded live by the BBC Symphony Orchestra with soloists Jennifer Koh and Irene Buckley and conductors Marin Alsop, Sakari Oramo, Andrew Litton, and André de Ridder. Recent releases include DANCE featuring Inbal Segev, Marin Alsop, and the London Philharmonic; The Violin, an album of her works for multi-tracked violins with animations by artist Josh Dorman; Blue Moth, an album of her instrumental music for ensemble and tape; Night Ferry with the Chicago Symphony Orchestra and Riccardo Muti; and Prince of Clouds featuring Jennifer Koh and Jaime Laredo with the Curtis Chamber Orchestra on Cedille Records. Both Night Ferry and Prince of Clouds were nominated for 2015 GRAMMY Awards.
Clyne's music is published exclusively by Boosey & Hawkes