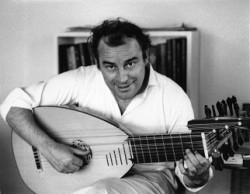 Biography:
Julian Bream (15 July 1933 – 14 August 2020) was one of the most distinguished classical guitarists of the 20th century. Following an official debut at Cheltenham on 17 February 1947, at the age of thirteen, he was soon acknowledged as one of the most remarkable artists of the post-war era. By his sixteenth birthday, Julian Bream had taken part in dozens of BBC broadcasts, recitals, and film music, and, furthermore, fascinated by the lute and its culture, had begun researching the Elizabethan repertoire. In November 1951, he made a triumphant debut at the Wigmore Hall, London and, some months later, his first appearance at the Aldeburgh Festival. After studies at the Royal College of Music, and National Service with the Army, Julian Bream's career pursued its meteoric path. Before long he fulfilled regular engagements on all five continents, including annual tours of the USA and Europe, as well as a busy winter schedule throughout the British Isles.
His solo guitar recitals presented an immense variety of compositions including transcriptions from the 17th century onwards. At the other end of the historical spectrum, Julian Bream was paramount in inspiring profound developments in the contemporary guitar repertoire. Eminent composers who dedicated pieces to him include Arnold, Berkeley, Bennett, Britten, Brouwer, Fricker, Henze, Maxwell Davies, Searle, Takemitsu, Tippett, and Walton.
As well as his enthusiasm for modern guitar sonorities, Julian Bream was renowned for his fervent advocacy of the Elizabethan lute. In the world's concert halls his solo lute recitals, song accompaniments for Peter Pears and Robert Tear, lute / harpsichord concerts with George Malcolm, programmes of poetry and music with Peggy Ashcroft, and his founding of the Julian Bream Consort, offered unprecedented opportunities for audiences to experience early music.
With this uniquely diverse range of activities, and a multitude of broadcasts and television appearances, Julian Bream was acknowledged from the mid-1950s onwards as one of the great recording artists of the 20th century. From 1958 Julian Bream recorded for RCA, winning many international awards, including six from the National Academy of Recording Arts and Sciences in the USA, two Edison awards and various prizes from Gramophone magazine. In 1979 RCA presented him with a platinum disc to mark record sales of half a million in the UK alone, as well as gold and silver discs for duo recordings with John Williams. In 1993, to celebrate his 60th birthday, RCA issued The Ultimate Guitar Collection, a unique box set of 28 compact discs, revealing the vast gamut of his recording work. From the beginning of the 1990's Julian Bream continued his recording career with EMI Classics, featuring music by J.S. Bach, a Concerto album (with the CBSO and Sir Simon Rattle), and discs devoted to contemporary works and guitar sonatas.
Radio and television appearances made Julian Bream known to a very wide public. A highly successful biographical film, A Life in the Country, was first shown on BBC TV in 1976. Other important programmes included a series of master classes also for BBC TV and in 1984 he made eight films on location in Spain for Channel 4 exploring historical perspectives of Spanish guitar music.
Highlights of Julian Bream's career included the 1991 BBC Prom performance of Malcolm Arnold's Guitar Concerto, broadcast on BBC Radio and TV, a recital and concerto performances of works by Takemitsu at the Japan Festival in London (autumn 1991) with the London Symphony Orchestra. During the 1992/3 season he performed on two separate occasions at the Wigmore Hall – at their Gala Re-opening Festival, and at a special concert celebrating his 60th birthday. That year he toured the Far East, visiting Hong Kong, Taiwan, Korea and Japan, and performed the premiere of Leo Brouwer's arrangement for guitar and orchestra of Albéniz's Iberia at the Proms. In 1994 he made debuts in both Turkey and Israel to great acclaim, and the following year played for the soundtrack to the Hollywood film Don Juan de Marcos.
Julian Bream was awarded an OBE (1964) for services to music and the CBE (1985). He received Honorary Doctorates from the Universities of Surrey (1968), and Leeds (1984). In 1976 he was personally presented with the Villa-Lobos Gold Medal by the composer's widow. He was elected an Honorary Member of the Royal Academy of Music (1966), and was honoured with Fellowships of the Royal College of Music (1981) and the Royal Northern College of Music (1983). In 1988 he became an Honorary Member of the Royal Philharmonic Society, and was also presented with the Royal Philharmonic Society Instrumentalist's Award in 1996.
In 1997, in celebration if the fiftieth anniversary of his debut, he performed a recital at Cheltenham Town Hall. A few weeks later the BBC dedicated a special television tribute This Is Your Life programme to him, filmed after a commemorative concert at the Queen Elizabeth Hall, London.
The documentary DVD of Julian Bream's life and career, My Life in Music, on Avie, won Gramophone's DVD of the Year Award in 2007. In 2013, Gramophone recognised Julian with a Lifetime Achievement Award.