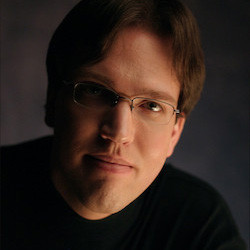 Biography:
Equally adept at writing music for the concert hall, film, television, and the theatre, Christopher Tyler Nickel's award-winning music has been heard in over 160 countries.
He is the author of numerous concert works which have been performed by orchestras, chamber ensembles, and soloists throughout Canada, the United States, and Europe. Highlights include the 2002 performance by the Northeastern Pennsylvania Philharmonic of his Fanfare for Freedom for an audience of 40,000. This concert was broadcast on live radio throughout the east coast of the United States for their 2002 Independence Day celebrations. Another highlight was the Vancouver Symphony's outdoor performance of the aforementioned piece for an audience of 9,000. Major works include a concerto for piccolo/flute/alto flute written especially for Sarah Jackson (piccolo of the Los Angeles Philharmonic) that was premiered in Vancouver; Tranquility for solo English horn and orchestra premiered by Beth Orson (principal English horn of the Vancouver Symphony); and the 2015 premiere of his Concerto for Oboe written for Roger Cole (principal oboe of the Vancouver Symphony). Christopher's many orchestral performances include two world premieres by the Atlanta Symphony Orchestra. His theatre work includes a musical based on Jules Verne's 20,000 Leagues Under the Sea, ballet music for CatchingART Contemporary Ballet, as well as composing music for director Christopher Gaze and the celebrated Bard on the Beach Shakespeare Festival in Vancouver.
In the world of film and television music, Christopher has composed for hundreds of hours of productions for clients that include Discovery, CBC, Corus, Sci-Fi, Hallmark, Alliance Atlantis, Lifetime, National Geographic, Teletoon, HGTV, and History. His scores include music for the acclaimed series Highway Thru Hell, Heavy Rescue: 401, and The Nature of Things. His many film and television scores have garnered him three SOCAN Awards, a Leo Award win and eleven nominations to date, and the 2004 Gold Medal for Best Score at the Park City Film Music Festival.
Recordings of Christopher's concert music include the album Music for Woodwind Choirs on the Centrediscs label, which features his Symphony for Flute Choir and Suite for Two Oboes and Two English Horns; his expansive hour-long Symphony No. 2 with the Northwest Sinfonia conducted by Clyde Mitchell; the present album of his Concerto for Oboe, Concerto for Oboe d'amore and Concerto for Bass Oboe; and his seven-hour long oratorio The Gospel According to Mark also conducted by Clyde Mitchell. Christopher's music is published by C.F. Peters, Robert Wendel Music, C. Alan Publications, and the Canadian Music Centre.