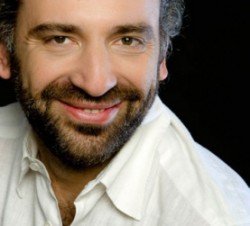 Biography:
Stefano Bollani started studying the piano at the age of six and, in 1993, received his piano diploma at the Conservatory of Florence.
After a first period dedicated to the pop music, he established his reputation in the jazz world performing with very famous musicians (Richard Galliano, Gato Barbieri, Pat Metheny, Michel Portal, Phil Woods, Lee Konitz, Han Bennik, Paolo Fresu, Miroslav Vitous, Aldo Romano, Toninho Horta, John Abercrombie, Kenny Wheeler, Greg Osby, Martial Solal…) on the most prestigious stages in the world ( from Umbria Jazz to the Montreal Festival, from the Town Hall in New York to the Scala in Milano).
A fundamental moment in his career was the cooperation started in 1996 – and never interrupted – with his mentor Enrico Rava, with whom he performed hundreds of concerts and recorded twelve cds; the most recent, Tati, ECM 2005, in trio with Paul Motian on the drums, was "the record of the year" according to the French Academie du Jazz.
The referendum held by Musica Jazz magazine proclaimed him best new talent in 1998. In 2004, the Japanese magazine Swing Journal awarded him the New Star Award, reserved to the new foreign talents; that was the first time for a non-american musician.
He recorded a lot of works for the most prestigious labels (from the french Label Bleu to the German ECM) and performed many theatre shows and radio appearances, mostly on the national RAI channels. He performed as a soloist with symphonic orchestras such as the Orchestra Regionale Toscana, the Filarmonica'900 from Torino, the Giuseppe Verdi Orchestra from Milano. According to the Musica Jazz magazine he is the musician of the year 2006, while, at the same time, his CD Piano Solo, published by ECM, is the record of the year.
During the same year, the publisher Baldini e Castoldi Dalai printed his novel La sindrome di Brontolo.