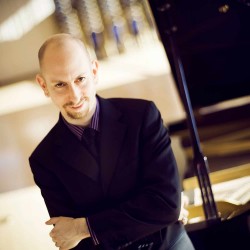 Biography:
Hailed as one of today's preeminent American classical pianists, Adam Neiman has cultivated a breathtaking career spanning more than three decades and traversing four continents. Possessed of an encyclopedic repertoire – nearly 70 piano concertos, dozens of diverse solo recital programs, and virtually the entire canon of standard chamber music – Neiman has been acclaimed as a thought-provoking, charismatic, and highly virtuosic performer.
Neiman has performed as soloist with numerous major orchestras, including those of Chicago, Cincinnati, Dallas, Detroit, Houston, Indianapolis, Minnesota, Saint Louis, San Francisco, and Slovenia, as well as the National Symphony Orchestra of Washington D.C. His recitals have spanned many of the great concert halls and festivals across the globe.
Neiman is an accomplished composer, with a catalogue of compositions that includes two symphonies, two piano concertos, a string quartet, and various solo and chamber works. Recent commissions include his Piano Concerto No.2, Piano Trio No.2 for Clarinet, Violin, & Piano, and his String Quartet. Various documentary film appearances as a pianist resulted in his eventual contribution as a composer to the PBS documentary by Emmy
Award-winning director Helen Whitney titled: Forgiveness, A Time to Love and a Time to Hate.
Neiman is a tenured Associate Professor of Piano at the Chicago College of Performing Arts at Roosevelt University, where he also serves as Chair of the Music Conservatory. From 2016 until 2022 he served as Artistic Director of the
Manchester Music Festival in Vermont, and he is CEO of Aeolian Classics, LLC.