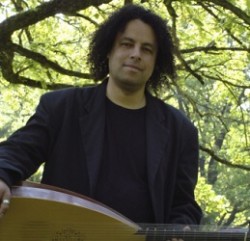 Biography:
Andrew Maginley was born in New York City. He began playing electric guitar as a teenager while studying illustration at the High School of Art & Design. After gaining a Bachelor's Degree in Fine Arts from the School of Visual Arts, he devoted himself to studying lute and theorbo with Pat O'Brien. In 1994 he received a Master's Degree in Historical Performance from the Mannes College of Music, and one year later was awarded a Fulbright Scholarship to further his studies at the Akademie für Alte Musik/Hochschule fur Künste in Bremen, Germany.
Andrew focuses primarily on repertory for the D minor baroque lute, which was most popular in 17th-century France, and 18th-century Germany, Austria and Silesia. Such well-known names as J.S. Bach, Antonio Vivaldi and S.L. Weiss contributed to this distinctive body of work, as did Joseph Haydn with his transcriptions for lute and strings. Yet there are many pieces, particularly for solo lute and for lute with wind and string accompaniment, by composers virtually unknown to today's audiences. Andrew embraces all sides of the spectrum, frequently juxtaposing the popular with the unjustly neglected.
As a recording artist, Andrew has released two solo CD: The Baroque Lute – J.S. Bach, S.L. Weiss & Adam Falckenhagen, on Avie; and lute sonatas by Falckenhagen on Centaur Records. Also on Avie, he directs period-instrument ensemble The Frolick which accompanies contralto Emma Curtis on her CD Calliope: Songbooks of the 1700s.
Andrew has given solo performances at the Bachhaus in Eisenach, Germany, the Bloomington Early Music Festival and the New York City Early Music Series. In September 2005 he performs two recitals in the Fringe series of the Utrecht Early Music Festival.
Further festival appearances include the Berlin Tage für Alte Musik, International Handel-Festival Göttingen, and the Aspen Festival in Colorado. Forming a continuo team with gamba player Erin Headley and lutenist Stephen Stubbs, he performed with Thomas Albert and Fiori Musicali in the Telemann Festspiele Magdeburg, and in the Händel Festspiele Halle.
Andrew has performed throughout Europe and the United States with numerous ensembles, including La Grande Ecurie et la Chambre du Roy directed by Jean-Claude Malgoire, and, playing the milanese mandolino and archlute, with the Stuttgart Baroque Orchestra directed by Frieder Bernius. He has collaborated with tenor/guitarist/composer Anthony Madigan to form the Madrid-based Ensemble Arlecchino, specializing in 17th-century Neapolitan vocal and instrumental music.
Andrew Maginley has been guest lutenist/theorbist of the Staatstheater-Stuttgart, Stadttheater Freiburg, Stadttheater Klagenfurt, and Staatstheater Graz. At the Juilliard Opera Center in New York City he was guest theorbist in L'incoronazione di Poppea conducted by Gary Wedow, and scenes from Dido and Aeneas, and Cavalli's La Calisto conducted by Kenneth Merrill. In 2005, he performed in the Aspen Opera Theater Center's production of Cavalli's Giasone conducted by Harry Bicket. He worked with Bicket again in 2006 in the LA Opera production of L'incoronazione di Poppea.