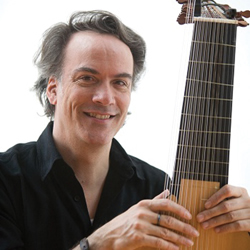 Biography:
Sylvain Bergeron, archlute and codirector, is a native of Quebec City. An accomplished performer on plucked instruments, he plays nearly 100 concerts per year throughout North America. He has collaborated with such artists as Emma Kirkby, James Bowman, Jordi Savall, David Daniels, Magdalena Kozená, Michael Chance, Charles Daniels, Karina Gauvin, Susie LeBlanc and Vivica Genaux. He works regularly with Les Violons du Roy, Apollos Fire, L'Ensemble Arion, Les Idées Heureuses, Les Boréades, Les Voix Humaines and Les Voix Baroques.
Bergeron has performed in such halls as the Amsterdam Concertgebouw, the Salle Gaveau in Paris and Lincoln Center in New York. He can be heard on 70 CD recordings, on labels including Atma, Dorian, Analekta, PGM and CBC Records. His most recent solo album, 'The Balcarres Lute Book' (Atma), won critical acclaim.
Bergeron teaches lute and baroque guitar at McGill University and the University of Montreal. He has given lectures and masterclasses for the Lute Society of America, and at early music festivals in Berkeley (California), Vancouver, and Rabat (Morocco).