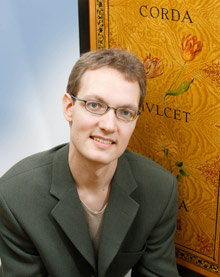 Biography:
Aapo Häkkinen (1976) began his musical education as a chorister at Helsinki Cathedral. He took up the harpsichord at the age of thirteen, studying with Elina Mustonen and Olli Porthan (organ) at the Sibelius Academy in his native Helsinki. From 1995 to 1998 he studied at the Amsterdam Sweelinck Conservatoire with Bob van Asperen, and from 1996 to 2000 with Pierre Hantaï in Paris. He was also fortunate to enjoy the generous guidance and encouragement of Gustav Leonhardt.
Immediately after obtaining his soloist's diploma in 1998, Aapo Häkkinen won second prize and the VRT prize at the Bruges International Harpsichord Competition. He was also awarded the Norddeutscher Rundfunk special prize Musikpreis 1997 for his interpretations of Italian music. Aapo Häkkinen has appeared as a soloist in Scandinavia, Holland, Belgium, France, Germany, Austria, Switzerland, England, Italy, Spain, Luxembourg, Portugal, Estonia, Russia, Poland, Slovenia, Croatia, Slovakia, Bulgaria, Israel, the United States, and Mexico (Festival de La Roque-d'Anthéron, Konzerthaus Berlin, Brühler Schlosskonzerte, Dresdner Musikfestspiele, Wartburgkonzerte Eisenach, Göttinger Händel-Festspiele, Kölner Philharmonie, Flanders Festival, Bachfest der Neuen Bachgesellschaft, Musica Bayreuth, Greifswalder Bachwoche, Antwerp Augustinus Muziekcentrum, Washington Library of Congress, Copenhagen Tivoli Festival, St Petersburg Early Music Festival, Riga Bach Festival, Cracow Philharmonia, Forum Musicum Wroclaw, Semana Santa Madrid, Semana de Música Antigua de Estella, Culturgest Lisbon, Bolzano Festival, Antonio il Verso Palermo, Brežice Festival, Radovljica Festival, Zagreb Baroque Festival, Varaždin Baroque Evenings, Israel Festival, Festival Internacional Cervantino, Festival de Morelia, Tallinn Baroque Festival, Kuhmo Chamber Music, Helsinki Festival, Turku Music Festival, Lahti Organ Festival…)
Aapo Häkkinen is also known as a distinguished chamber musician and director (Musica Aeterna Bratislava, Orchestra del Teatro Olimpico di Vicenza, Croatian Baroque Ensemble, Tampere Filharmonia, Tapiola Sinfonietta, Chamber Orchestra of Lapland, Jyväskylä Sinfonia, Sibelius Academy Baroque Orchestra, SataSinfonia, vocal ensemble Lumen Valo, Helsinki Chamber Choir, Tapiola Chamber Choir, Utopia Chamber Choir) in collaboration with artists such as Enrico Baiano, Jay Bernfeld, Reinhard Goebel, Monica Groop, Ilya Grubert, Pierre Hantaï, Jorma Hynninen, Erich Höbarth, María Cristina Kiehr, Anu Komsi, Topi Lehtipuu, Julia Lezhneva, Riccardo Minasi, Alexander Rudin, and Dmitry Sinkovsky. He has conducted Handel's Acis and Galatea (dir. Vilppu Kiljunen) and Haydn's L'isola disabitata (dir. Johanna Freundlich) for the Finnish Chamber Opera, Carissimi's Jephte (dir. Juha Mustanoja) for Kokkola Opera, and Pergolesi's La serva padrona (dir. Ozren Prohić) for the Croatian National Theatre.
Aapo Häkkinen has recorded for the labels AEOLUS, Alba, Avie, Cantus, Deux-Elles, and Naxos, and for European radio and television companies such as DlR, MDR, NDR, WDR, BR, SR, SWR, and VRT. A writer and broadcaster about many aspects of the early music world, Häkkinen hosts his own programme over Classic FM in Finland. Besides the harpsichord, he regularly performs on the organ and on the clavichord. He has commissioned, given premières, and recorded music by Lucio Garau, Eero Hämeenniemi, Mário Laginha, Jyrki Linjama, Jukka Tiensuu, and Tapio Tuomela. Aapo Häkkinen has edited a series of 17th century Florentine keyboard music for Ut Orpheus Edizioni. He teaches at the Sibelius Academy and at international master classes. He is Artistic Director of the Helsinki Baroque Orchestra.