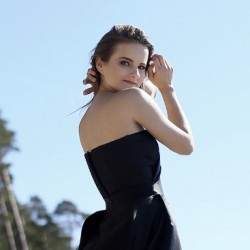 Biography:
Because of Akvilė Šileikaitė's great interest in chamber, orchestral and new music, her repertoire consists of a wide scope of different styles and compositions, ranging from timeless baroque compositions to contemporary music, from seldom played pieces to exciting premieres. Due to her enthusiastic attitude towards working with various instrumentalists, taking on different repertoires, curiosity and passion for music, she is often asked to join musicians for music projects all over the world.
As Peter Hagmann expressed it, 'Akvilė Šileikaitė is a pianist of a special kind. She is not only a pianist, with passion she also works as a visual artist and photographer. But above all, when it is played by Akvilė Šileikaitė, the piano sounds unlike anything we're used to – it's vibrantly vital and rhythmically gripping, but also, if the work demands it, wonderfully cantabile.' In 2015, Akvilė and Valentine co-founded the AKMI Duo, an ensemble that has enjoyed unforgettable debuts at prestigious venues such as London's Wigmore Hall, Salle Cortot in Paris, the Musikverein Wien, the Lucerne Festival and Festival Radio France.
Akvilė also actively performs with percussionist Fabian Ziegler and works with such artists as Emmanuel Pahud, Barbara Hannigan, Péter Eötvös, Francesco Filidei, Matthias Pintscher, Arash Safaian and Kent Nagano. She also performs in festivals, including the Davos Festival, Label Suisse and Tage neue Musik Zürich, and on concert stages at the Zürich Tonhalle, Stadtcasino Basel, Lucerne KKL, Wellington College and München Gasteig, among many others.