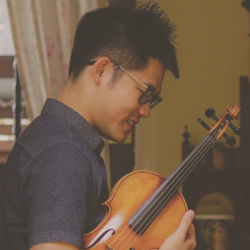 Biography:
Singaporean violinist Alan Choo has established himself on the global stage as a leading soloist, chamber musician and historical specialist. He made his solo debut with the Grammy Award-winning baroque orchestra, Apollo's Fire, at the Tanglewood and Ravinia Music Festivals in 2017, and currently serves as Artistic Leadership Fellow for the ensemble, where he takes on soloist, concertmaster and guest director roles. He is also Founder and Artistic Director of Red Dot Baroque, Singapore's first professional period ensemble, which has enjoyed multiple sold-out concerts and critical acclaim since their formation in August 2018. In May 2019 he was invited as guest concertmaster and soloist with the Shanghai-based baroque ensemble, Shanghai Camerata.
As a modern violinist, Alan has appeared as a soloist with the St. Petersburg Symphony Orchestra, Singapore Symphony Orchestra, Singapore Chinese Orchestra, Orchestra of the Music Makers and more. A proponent of contemporary music, Alan is co-founder of SG Inspirations, a project dedicated to performing works by Singaporean composers. In 2015, he recorded the SG Inspirations commemorative CD album with pianist Lin Hengyue as a gift to their nation on Singapore's 50th anniversary. His piano trio Trio Phoenix combines both worlds of early and contemporary music by performing works by living composers and exploring the wealth of baroque repertoire performed with stylistic awareness on modern instruments. The trio completed their Asia Summer Tour in 2015 to critical acclaim, with repertoire ranging from Jean-Philippe Rameau to Alfred Schnittke, and were guest artists at the Lexington Bach Festival 2017.
Alan's achievements in all areas of performance have earned him awards such as the Early Music Award 2016 from Peabody Conservatory, the Paul Abisheganaden Grant for Artistic Excellence 2015, the Goh Soon Tioe Centenary Award 2014, the Grace Clagett Ranney Prize in Chamber Music 2014 and 1st prize in the National Piano and Violin Competition 2011, Artist Category. He has also given masterclasses and lectures in violin performance, performance practice and stage presence to college students at the Cleveland Institute of Music, Baldwin-Wallace College, Bowling Green State University, Yong Siew Toh Conservatory and Nanyang Academy of Fine Arts.
A graduate of the Yong Siew Toh Conservatory and Peabody Conservatory, Alan is currently finishing a Doctorate in Historical Performance Practice at Case Western Reserve University under Julie Andrijeski. His past teachers include Victor Danchenko, Alexander Souptel and Risa Browder.